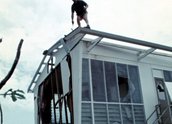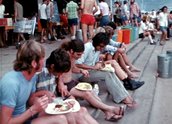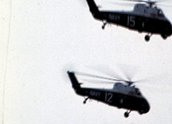 Bushnell, K: Cyclone Tracy Aftermath (1974)
Synopsis
This unedited raw footage was shot by freelance cameraman Keith Bushnell in the immediate aftermath of Cyclone Tracy which hit Darwin on Christmas Day 1974. It captures the devastation and destruction of the city and the temporary shelter and food hall set up to provide assistance to the people who lost their homes. It also shows a convoy of navy helicopters across the Darwin sky.
Curator's notes
Freelance cameraman Keith Bushnell recorded the visible impacts of Cyclone Tracy and was one of the first cameramen on the scene to witness the devastation. Bushnell was freelancing for the ABC at the time and other parts of his footage were widely seen in news bulletins around the country. As a viewer, it is unusual to see raw footage like this not packaged up into a 90-second news story, although it is clear that Bushnell has a professional eye for what is valuable in this context. The close ups on people's faces and objects, and the panoramic views of the destruction indicate that Bushnell has a clear understanding about news and current affairs.
It is estimated that Cyclone Tracy killed 71 people, with at least 22 people lost at sea. Between 80 to 90 per cent of housing was destroyed and tens of thousands were left homeless.