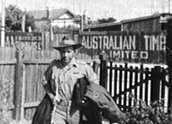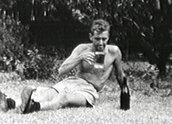 Christmas Crackers (1945)
Synopsis
In December 1945 Mrs Isabel Sprod awaits the return of her three sons and son-in-law from the war. Her daughter Kathleen and granddaughter Jill also prepare for the homecoming.
This amateur film made by John Sprod re-enacts a reunion between the family members when the four men return to Adelaide from active service overseas during the Second World War. Through the course of the film, Mrs Sprod welcomes home her son George from the Army, John from the Airforce, Dan from the Navy and her brother-in-law Des Carter from the Army. The film includes captions and illustrations drawn by George Sprod as well as acting performances from nine members of the immediate family.
Curator's notes
This amateur film is based on the Sprod family's experience of the end of the Second World War and the joy of reuniting with family after the men return from overseas service. All the family members play versions of themselves and the scenario beautifully portrays their emotions and connections as a family. The film was shot by John Sprod with an 8 mm cine Kodak camera which he bought in the early 1940s. John also edited the film.
A cheeky opening credit thanks the Australian Commonwealth Government for supplying the gentlemen's wardrobe. This humour (evident also in George Sprod's cartoons and captions which punctuate the film) keeps Christmas Crackers light-hearted but does not shy away from some of the pain the war has caused the family. When George arrives home, a caption says that he is 'thin, drawn and emaciated' after three years as a prisoner of war. While the real-life George has clearly recovered and appears in good health, he was in fact a POW in Changi, Singapore. The illustrations he shows his mother in clip one were drawn during his imprisonment and are now held at the Australian War Memorial.
John Sprod's father was an amateur photographer and taught him how to develop film at their Adelaide home. He bought an 8 mm cine Kodak camera during the Second World War and helped project films to troops when serving in the Pacific. The camera is now held at the National Film and Sound Archive. After the War, John joined the Adelaide Camera Club and went on to become a professional photographer.
Amateur films made by family members have been produced since the 1920s when home-movie making became popular with the invention of 16 mm film. Amateur films like Christmas Crackers were created as part of the family's entertainment and were often screened to friends and relatives.