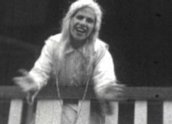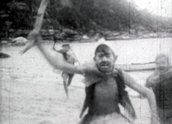 Browne, George: Our movie memories 1928–1934 (1928)
Synopsis
This silent black-and-white 9.5 mm home movie compilation by amateur filmmaker George Browne shows the Browne family and friends enacting Kate of the Cactus Country, Shakespeare's Romeo and Juliet and Good Queen Bess. They were recorded between 1928 and 1934.
Curator's notes
Complete with descriptive and humorous intertitles, elaborate costumes, cross-dressing, melodramatic acting and familiar scenarios, these amateur role-plays are a real treat to watch. They are filled with humour, candour, excitement and plenty of theatrics – the perfect recipe for staged drama.
Including enthusiastic family and friends in the cast, these mini-plays staged for the camera were clearly a source of great amusement for all involved. At various points throughout the footage, players often fall over, mess up their parts, or do a number of takes while trying to get their sequences right. While it is not clear whether there was a particular occasion when these plays were staged, or whether they were just part of a family tradition, they are a rare snapshot of early amateur 'short films'.
These home movies would have been a great source of amusement for the cast to watch once they had been edited together. Both Good Queen Bess and Romeo and Juliet have a humour evident even to a viewer unfamiliar with the family involved. It is clear that this Browne family artefact would have held a special place in the family's memories of growing up.
George Browne shot his home movies on 9.5 mm film, a narrow gauge film format introduced by the French company Pathe in the early 1920s. 9.5 mm was one of the first widely used amateur film formats, especially in Europe. It has single perforations in the centre of each pair of frames, rather than perforations along one edge of the frame. This allows extra space for the picture, while remaining small and compact, and was therefore relatively cheap to buy.