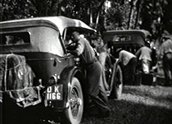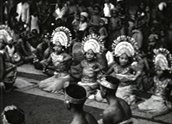 Balinese Holiday (c.1933)
Synopsis
This home movie footage was filmed in the early 1930s by Harold Beckwith on his travels throughout Europe and the islands of Bali and Java in the then Dutch East Indies.
Curator's notes
This home movie is a rare example of amateur footage taken by a Westerner in colonial South East Asia in the 1930s. Even in the 1950s and 1960s with commercial air travel available, it was rare for Australian tourists to travel to South East Asia. It was even less common in the 1930s. This is one of the only examples of such footage held at the National Film and Sound Archive.
The footage was filmed by Harold Beckwith, a man who led an extraordinary and adventurous life in his younger years. Beckwith was born in Yorkshire in 1898, and was the son of a wool milling family. At the age of sixteen, he enlisted as an eighteen-year-old in the First World War, where he fought in the battle of the Somme. At the age of 22, he decided to come to Australia and found work as a jackaroo on a sheep station. In the early 1930s, he inherited a large sum of money from his parents that allowed him to pursue his dream of travel and adventure. Buying good quality 16mm Kodak camera equipment and a Rolls Royce, he travelled extensively through Europe and parts of Asia, including the former Dutch East Indies and India. On his 1933 voyage, when this footage was filmed, Beckwith met the woman who was to become his second wife – 24-year-old Cecily Grace Johnson. Johnson is shown in the Switzerland segment not selected here. Johnson and Beckwith travelled for eight months before coming back to Australia and getting married.
Actuality footage such as home movies are not, as they may appear, objective representations of the world but rather the result of an active engagement with that world. The home movie maker participates in an act of framing, negotiation, construction and projection. In this way, this footage of Bali and Java in the 1930s also represents a particular Westerner's view of the Asian region at that time. In clip two for example, which records a traditional Balinese dance, Beckwith deliberately chooses to film this performance and frames the dancers to accentuate their beauty and movement. He also unintentionally captures other Westerners seated in the background, dressed in their Colonial-era attire, and who watch on with reserved fascination.
Balinese Holiday was deposited with the National Film and Sound Archive, as part of the Last Film Search initiative, by Beckwith's daughter from his third marriage.