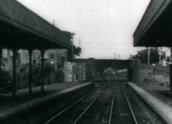 Newtown Railway Station (1899)
Synopsis
This actuality footage from 1899 begins with a static view of commuters meeting an incoming train at a railway station in Sydney's inner west. The clip cuts to the view from the back of the train after it has passed under an overhead bridge and is pulling into the station.
Curator's notes
This film's full title is 'Petersham Railway Station and Ride from Newtown' and it seems likely that one or both of the railway stations seen in this brief clip is Newtown, rather than Petersham. Newtown Railway Station was moved from Station Street to its present location on King Street in 1892. A photograph from 1906 shows it to have at least four platforms, rather than its current two (see Pictorial History: Newtown, 1999, by Alan Sharpe, Kingsclear Books). This is more in keeping with the size of the station seen at the end of the clip. Newtown also has overhead bridges at both ends of the station.
The film was shot by Frederick Charles Wills, who was commissioned by the Queensland Department of Agriculture to record snapshots of daily life and agricultural processes using a Lumière Cinematographe camera. With his assistant, Henry William Mobsby, he produced over 30 films in 1899, each about one minute long. Many of the films feature transport: trains and railway stations (see also Roma Street Station, 1899), boats (see SS Katoomba Unloading, 1899), ferries (see North Shore Steam Ferry, 1899) and street scenes featuring electric trams and horse-drawn traffic (see Queen Street and Victoria Bridge, 1899).
Most of the surviving films were shot in Queensland, but there are also films shot in Sydney and the Torres Strait Islands (see Darnley Islanders Pay Tribute, 1899).