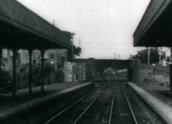 Newtown Railway Station (1899)
Are you sure this is Petersham? The track arrangement coming under the bridge curves to the left as it does to this day at Newtown which had two island platforms as this station seems to and the bridge would be in the correct location for the King St road bridge. Approaching Petersham the track curves to the left and the road bridge is much further from the platform and there is a footbridge on the platform.

#1 from Railwayz – 7 years, 4 months ago.

The second half is Newtown Railway Station. It is shot facing East, from a train heading West on the "Down Suburban" line. The bridge is Erskineville Road.

#2 from TrainDriverYoda – 6 years ago.

TrainDriverYoda, thanks for your comment. We've amended the notes accordingly.

#3 from Editor – 6 years ago.
To comment on this title, you need to be
logged in
.

RSS – Subscribe to an RSS feed of comments on this title. (learn about RSS)