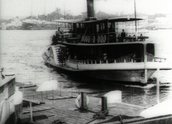 North Shore Steam Ferry (1899)
Synopsis
This actuality footage shows a steam ferry docking at the Milsons Point Ferry Wharf in 1899. Bennelong Point, Fort Macquarie and Government House can be seen in the distance.
Curator's notes
This footage was taken by the official photographer of the Queensland Department of Agriculture, Frederick Charles Wills. Wills, and his assistant Henry William Mobsby, were commissioned by the department in October 1898 to capture aspects of Queensland agricultural and daily life using a Lumière Cinematographe camera. Besides filming in Queensland and Sydney, Wills also travelled to the Torres Strait (see Darnley Islanders Pay Tribute, 1899).
For further information, see 'Australia's First Films' by Chris Long and Pat Laughren, Cinema Papers, 1993, No. 96, p 37.