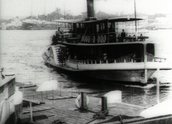 North Shore Steam Ferry (1899)
Note that passengers used steps on the paddle box to reach the upper deck. It was the same on all the two-deck paddle steamer ferries, including the Manly ferries of the time.

#1 from GrenadierGuardsDmr – 10 years, 9 months ago.
To comment on this title, you need to be
logged in
.

RSS – Subscribe to an RSS feed of comments on this title. (learn about RSS)