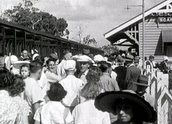 The Maryborough Railway Employees' Picnic (1938)
Synopsis
This is actuality footage of the Maryborough Railway employees' picnic held at Scarness, Queensland, on 20 March 1938. Children and families from Gympie, Bundaberg, Kingaroy, Childers and other south-east Queensland areas all attend. It includes scenes of children boarding trains at Maryborough, their arrival at Scarness train station, the grand parade and marching bands, the 'Belle of the Beach' beauty contest and happy children eating ice-creams supplied by Maryborough Railway.
Curator's notes
Maryborough Railway hosted annual picnics for thousands of children and their families in the late 1920s and early 1930s. The children received free fruit, lollies, flags (see clip one) and ice-creams to maintain their energy and excitement throughout the day.
The film was deposited with the National Film and Sound Archive by a projectionist who worked in the region. It had certainly screened locally. There are two moments in the footage where a member of the crowd is identified with a circle and told (via a succeeding intertitle) to proceed to the theatre manager to collect a prize. If anyone can identify the person ringed in clip one, please contact australianscreen!
It is not clear who shot the film or who compiled the footage. The intertitles indicate it screened in local cinemas, so it was probably made by Maryborough Railway themselves. The Hervey Bay Historical Village and Museum holds a couple of black-and-white photographic prints of a picnic day held at Scarness during the 1930s. Together with these surviving moving images, they remain a visual record of an event that some of the children – now in their later years – still remember with great fondness.