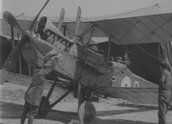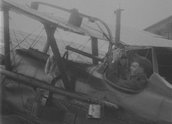 The Australian Flying Corps in France, England and Palestine (1919)
Synopsis
In France in early 1918, the newly renamed squadrons of the Australian Flying Corps are busily engaged in the aerial war against a resurgent German force. At No. 3 Squadron, an Australian cameraman films preparation of an RE8 aircraft for a bombing mission. The bombs are locked on and armed by hand; the pilot 'boxes' the plane's compass himself. At Clairmarais airfield, Sopwith Camel fighters of No. 4 Squadron perform aerobatics, probably in late April or June 1918. At Bruay, around 26 March, during the German spring offensive, a flight of Camels from No. 4 Squadron prepares for operations. At Savy aerodrome, SE5a fighters from No. 2 Squadron take off.
Lieutenants RC Nelson and VGM Sheppard, pilots of No. 4 squadron, parade sheepishly for the camera. In scenes thought to have been shot in 1919, after the war ended, General Sir William Birdwood visits the AFC training schools at Minchinhampton and Leighterton in England. AFC cadets learn how to operate machine guns in preparation for aerial combat, at Minchinhampton. In Palestine, in January 1918, pilots of No. 1 Squadron prepare for a mission over Jaffa and the Jordan Valley, flying Martinsydes and Bristol Fighters. They take off after a brief word from the commanding officer, Lt Col. Richard Williams. Captain Ross Smith carries the Australian cameraman Frank Hurley aloft for his first aerial filming.
Curator's notes
These are amongst the first images we have of Australian military aviation. The Australian Flying Corps, formed in late 1912, is the precursor to the Royal Australian Air Force. When war broke out in August 1914, the AFC was little more than a training school at Point Cook in Victoria, which had five primitive training aircraft and four student pilots, one of whom was Richard Williams, who became the first Australian pilot to qualify (see clip three). There were hundreds of men willing to learn to fly, but not much infrastructure to train them, so many went overseas to join the more advanced air forces in Britain and France. They included some who would become well-known aviators after the war – Charles Kingsford Smith, Bert Hinkler, EW Percival and Norman Brearley among them. The Royal Flying Corps, at the outbreak of war, had 84 front-line aircraft, and another 71 in the Royal Naval Air Service. Germany had 246 and France 132, according to the RAF website. All sides were preparing to fight a kind of war that had yet to be invented, in terms of tactics and organisation.
The AFC first saw action with a small contingent in Mesopotamia in 1915. This was the ill-fated 'half flight', so named because it was less than a complete squadron, with 45 men, most of whom died as prisoners of the Turks after the Siege of Kut. The first complete AFC squadron arrived in Egypt in 1916, in support of Allied forces against the Turks. This was No. 1 Squadron, AFC. They were an experienced and aggressive outfit by the time that cameraman Frank Hurley filmed them in February 1918. His shots from the observer's seat in a Bristol Fighter are the most innovative and exciting in this film (see clip three). The pilot for Hurley's aerial shots was the Australian ace Captain Ross Smith, one of the most distinguished Australian pilots of the war. He and his brother Keith became the first to fly from England to Australia, in a race held in 1919 (see Ross Smith's Flight from London to Australia, 1919).
Hurley's diary from 1918 makes clear that he found the experience of flying wildly intoxicating. 'I am powerless and utterly incapable of describing the wild and tremendous grandeur of the view,' he wrote. Hurley had recently arrived in the Middle East from the Western Front in France and Belgium. He was relieved to escape the horrors of the trenches, which he experienced for about 11 weeks in late 1917.
While Hurley filmed in Egypt and what was then Palestine (now Israel), Hubert Wilkins was filming with the three squadrons now based in France. His footage gives us a glimpse of them in action in March 1918, during their busiest weeks to that point. Wilkins was a former member of the AFC, who had learned to fly before the war while working as a newsreel cameraman in London. He covered the Balkan war of 1912 from the Turkish side for Gaumont, during which he persuaded a Turkish pilot to take him up in a Bristol two-seater over the enemy lines. 'Persuaded', according to his biographer Simon Nasht in The Last Explorer (Hachette Australia, 2005, p 30), by Wilkins wresting control of the aircraft and flying it over the battlefield, as the Turkish pilot fought him for control of the aircraft. Wilkins spent the next three years trudging around the Arctic Circle as the official photographer with the Canadian Arctic Expedition led by the quixotic Vilhjalmur Stefansson.
Stefansson was one of the worst leaders of any major attempt at polar exploration. Seventeen men died in this expedition. Wilkins was lucky to survive. He left Stefansson in late 1916 and returned to Australia, where he pulled strings to allow him to join the Flying Corps, despite a question about colour blindness. His eyesight was checked again when he reached London, and he failed the test – something that Wilkins never accepted. That is how he came to be offered the job as the second of two official Australian photographers on the Western Front, from August 1917.
The other was Frank Hurley, who had the senior position and rank, as an honorary captain. Wilkins stayed on in France after Hurley's departure in late 1917 for the Middle East. Wilkins was naturally drawn to film the Australian Flying Corps squadrons when they began to arrive in France in September 1917. No. 3 Squadron was the first to arrive, at Savy aerodrome in Northern France, one of the busiest airfields on the front, on 10 September 1917. They were equipped with RE8's, known to the airmen as the 'Harry Tate' (after a popular music hall performer in England).
This is the first aeroplane we see in clip one, with the distinctive rhino horn-shaped nose. It's also one of the aeroplane types that Baron von Richthofen was shooting at when he was brought down, most likely by Australian ground fire, on 21 April 1918 near Amiens. Richthofen, a German national hero by this time, was buried with full military honours by No. 3 Squadron, AFC. The burial service was filmed (see Incidents in Connection with the Funeral of Captain Baron von Richthofen, 1918).
Clip one also includes footage of Sopwith Camels doing aerobatics at Clairmarais, and a brief glimpse of SE5 fighters of No. 2 Squadron, at Savy.
This film appears to have been completed after the war. It includes footage shot at AFC training camps in England in 1919, when the men were about to be demobilised. General Sir William Birdwood inspected the trainees at Minchinhampton and Leighterton, both in Gloucestershire, possibly as a farewell gesture. Birdwood had commanded the Australian forces throughout much of the war and was generally well regarded by the Australian troops, who were about to head home. It's also possible that this is a combination of two separate films (see notes for clip two).