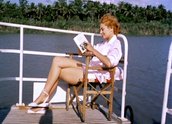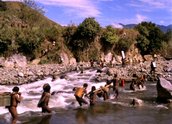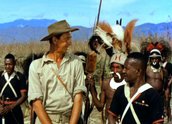 Walk Into Paradise (1956)
Synopsis
As he's heading for Australia on leave, senior patrol officer Steve McAllister (Chips Rafferty) is recalled to take a patrol into unmapped territory in the highlands of Australian-administered New Guinea. An old prospector, 'Sharkeye' Kelly (Reg Lye), has discovered oil during an unauthorised expedition that claimed his brother's life. McAllister is annoyed that he must take a French doctor, a UN malaria specialist (Françoise Christophe) into the interior, but she becomes crucial to the expedition's success, when they encounter hostile tribes in 'Paradise Valley'.
Curator's notes
Walk Into Paradise is a fascinating film, perhaps more for its choice of location than its dramatic qualities. It was the third collaboration between director Lee Robinson and star Chips Rafferty, after The Phantom Stockman (1953) and King of the Coral Sea (1954), and it relied on the same formula – an exotic location, in which Rafferty could play his particular version of an Australian hero – rugged, self-reliant, resourceful, an unpolished rough diamond.
The difference is that they chose to shoot it in the Australian-administered territories of Papua and New Guinea (before the country gained independence). This gives the film a pro-colonial romanticism, in which Rafferty can shoulder the white man's burden – to bring civilisation to the savage heart of New Guinea, a place few Australians had seen, but all had heard about, because of the war with the Japanese. The film saw itself in exactly these terms. New Guinea, says the introductory narration, is an island where 'today a gallant band of young Australian administrators are bringing civilisation to the most primitive people left on the face of the earth'.
The surprise of the film is not that some scenes are conceived with a casual racism, but that the film attempts to understand its environment. There's a strong paternalism that was also true of the Australian administration, but also a perceptible degree of warmth and respect for cultural difference. Indeed the reason that the expedition runs into trouble is specifically because the doctor, played by French actress Françoise Christophe, chooses to ignore a taboo against the taking of blood. She does it after being warned, in order to save the lives of two children with malaria, but it makes clear that the warriors have their reasons for an attack.
The film was shot on location in several inhospitable locations, and it has some remarkable footage to show for it: Sepik River long canoes paddled exclusively by women, and a full-scale highlands sing-sing, with hundreds of warriors in traditional dress trampling down grass to make an airstrip. Much of the story mirrors incidents in the pioneering expeditions of the Leahy brothers, the first white men to reach the New Guinea highlands, in the early 1930s. The film was also notable for being a coproduction with France. It was shot in both French and English versions simultaneously, the French dialogue scenes directed by Marcel Pagliero. Post-production was completed in France. The film was retitled Walk Into Hell and embellished with additional jungle footage for its US release, by veteran low-budget producer Joseph Levine. It was released in Paris as L'Odyssee du Capitaine Steve.