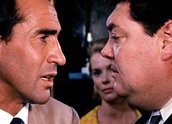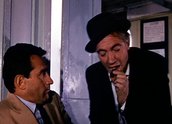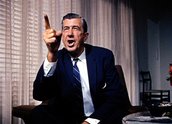 They're a Weird Mob (1966)
Synopsis
Nino Culotta (Walter Chiari), an Italian sports journalist, arrives in Australia to find his cousin's new magazine for migrant Italians has folded. He gets a job as a builder's labourer, learns to talk and drink like an Australian, and falls in love with an Australian girl (Clare Dunne). He is bemused by this strange new country, where people abuse him on the street and strangers want to buy him a drink, but he sees a future.
Curator's notes
The film is based on a best-selling book by Australian author John O'Grady, writing under the name of his character, Nino Culotta. In 1965, it was the first feature film made in Australia for seven years and it helped to put pressure on the Commonwealth Government to fund local feature production.
The director, Michael Powell, arrived from England with a huge reputation, and a fresh eye for the quirks of Australian life. The script is credited to Richard Imrie, an alias for Emeric Pressburger, Powell's long-time collaborator. The film is uneven, and certainly below their best work, but it has moments of great comic charm and ingenuity.
Walter Chiari, who plays Nino, was a veteran Italian actor, with 75 films to his credit. His ease and physical grace as a comic actor give the film a lot of its charm. The Australian cast were also accomplished, with John Meillon and Ed Deveraux as Nino's working class mates, and Chips Rafferty as his prospective father-in-law.
The film was an enormous hit at the Australian box office, grossing $2 million, on a budget of $600,000. It was one of the first feature films to deal openly with questions of prejudice against 'New Australians', albeit in a way that also flattered an Anglo audience. Nino encounters more kindness than prejudice, and quickly adopts 'Australian ways', becoming a model migrant. The film was in tune with the 'assimilationist' view then dominating Australian immigration policy.