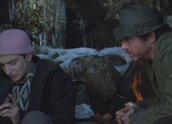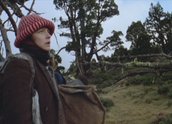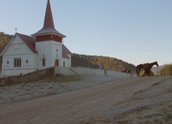 The Tale of Ruby Rose (1987)
Synopsis
Henry Rose (Chris Haywood) traps wallabies and possum for their skins in the Central Highlands of Tasmania in 1933. He and his wife Ruby (Melita Jurisic) have lived here for seven years, in a primitive slab hut. The isolation takes a toll on Ruby, who is much younger, and on their adopted son Gem (Rod Zuanic). Ruby is terrified of the dark, traumatised by memories of her childhood in one of the nearby valleys, and longing for contact with her father and grandmother, whom she hasn't seen in years. Welsh-born Henry loves the isolation and dreams of building a more permanent house, with space on the ground floor for animals – just like in the old country.
Ruby grows increasingly erratic and unhappy during the long days and nights while Henry and Gem are out snaring. In desperation, she sets off to walk back to the valley where she grew up. En route, she finds old Mr Bennett (Martyn Sanderson) who has been caught out in the freezing weather. He dies that night, as Ruby tries to keep him warm. She leads his horse, with his body tied on, down to the valley. Ruby is overjoyed to find her grandmother (Sheila Florance) is alive, but the joy is short-lived. Ruby's father (Wilkie Collins) helps her to reconcile her memories and her terror of wild animals. Trekking back into the mountains, Ruby falls and hurts her leg. She is freezing to death when Henry and Gem find her. They bring her home on a stretcher, clutching a holy picture of Jesus.
Curator's notes
The Tale of Ruby Rose is unlike any other Australian film before or since. It was born from a different tradition and in a different place than its contemporaries, and made in a different way. It's extreme, both in setting and style; the work of a maverick director who has not made another feature since this one, his debut.
Roger Scholes was born in Launceston, Tasmania in 1950 and grew up with a love of the outdoors and hiking. He studied cinematography and art direction at Swinburne film school in Victoria, where he was heavily influenced by European cinema. After some disillusioning years working on commercials in Melbourne, he moved to Europe, where he lived for most of the 1970s. He worked in cinema in various countries and learned to build houses while living in the Haute-Savoie, the French Alps. 'I came back with a completely different view of Australia and particularly of northern Tasmania,' Scholes says.
By then I had an interest in social history, that came out of living up in the peasant hills of the Haute-Savoie … So I went on a little tour for a year recording some oral histories and taking still photographs of people who were still living 'vernacular' lives, I suppose, lives very close to hunting and gathering. There were many people then and there still are some, but certainly in the late '70s these interviews and these photographs were quite illuminating for me. From one or two people – including a Mrs Miles, who was 85 – came stories of women living the lives that their menfolk made them live, because of the kind of insular and loner experiences that a lot of men, in many ways, preferred.
As an Anglo-Saxon Tasmanian, I was attracted to notions of history that didn't fit into the landscape. The colonial world didn't really interest me. I loved the bush but I longed for some historical or soul connection with it, which of course we have to struggle with, as I see it, as white Australians. Being over there (in Europe) really opened my eyes to our landscape and how remarkable it is, and how you can't find what we have here – which is lost worlds, the worlds of isolation where people who are on the edges of wilderness would farm and hunter-gather, across Australia and very particularly here in northern Tasmania … I fell in love with the Tasmanian Highland landscape which has got a lot of visual cues that are similar to Europe … It's a completely different landscape to the rest of Australia.
Scholes was preparing a book based on his photographs when he realised he wanted to turn the material into a feature film instead. Ruby's story was inspired by that told by Mrs Miles, who lived in the Mole Creek Valley. She had spent four years living alone in the Highlands in the 1930s, subsisting on wallaby and what she could grow, after the disappearance of her husband. He had died trying to get back to their hut after injuring himself. Scholes was also interested in naïve art, and the clinical histories of phobic patients who turned to art for solace. He noticed that a lot of these people created a kind of animist view of the world where 'powers were offered to natural forces'. He saw in that a link to human prehistory, a common tradition of all humans. That is why Ruby draws in the movie – she's traumatised by both the past and the present. The film's final image has sometimes been interpreted as a pro-Christian message, but that was not the director's intention. Ruby clutches a holy picture that is a link to her grandmother and her father.
'I don't know if that was clear enough,' says Scholes now about the film's religious iconography. 'It's almost like a cargo culture. That is to say, where do people get pictures of some kind of character who is going to come and save the city, or save the village, or whatever? Well, they all have a very similar root.' He continues:
And going back again to naïve and outsider artists, often invoking imagery of wherever they come from. There is a big difference between Eastern and Western Europe in the images they use, but for the most part it is all from a Judaeo-Christian European tradition, where the imagery is the Madonna or a Pieta or a Christ figure in some form. That particular image of Christ and the lamp has been used by a heap of different people in different ways, but if you go to Africa, these figures become something quite different. Yes, they are about people who can bring you good rather than bad experiences, but there's no moral reality. There is no intentional historicity to it. It's just the use of the image … I mean, the whole thing was an intuitive film, from the word go. At that stage I had no screenplay technical skill. I had not learned to write. I just wrote it. In that sense it is quite close to my own childhood experiences of isolation, and kind of 'lostness', I suppose.
Investing a feature film script with these ideas was not easy, but Scholes received valuable support from Greg Tepper, then in charge of Film Victoria. With a modest budget, he and the crew erected prefab huts in the Tasmanian wilderness and set up camp for 50 people to film during winter. They were to be kept supplied by helicopters, but the weather turned so bad that the choppers could not fly. For much of the six-week shoot, the crew was isolated. Actor Chris Haywood has described the experience as completely arduous but completely memorable:
When we got there, there was no food and no cook, nothing. So we were snaring and eating wallabies … The army were having their annual winter manoeuvres in the next valley and they pulled out because of the bad weather. It was phenomenal, but it was such a beautiful and haunting film. No one even thought of cutting out.
The weather played havoc with their plans. Scholes had to throw out many scenes of his script. At the end of the scheduled shoot the film was only 70 per cent complete, so Scholes took over the camera and worked on with a smaller crew. The film was invited to the Venice Film Festival, the first Australian film in competition there since 1954. 'There was a five-minute standing ovation,' says Scholes, but distribution in Australia was difficult. A local distributor declined to release the film, so Scholes appealed to the Wilderness Society, which underwrote the distribution costs. 'I spent six or seven months roadshowing the film around Australia.'
The film's reputation has only grown in the 25 years since it was made. This is one of the most haunting and beautiful Australian films of the modern era. The landscape is astonishing and the power is reflected in the characters. Haywood's Welshman is one of his best performances, both tender and gruff, largely uncomprehending of his wife's increasing turbulence. The film is not quite dramatically smooth, but that is perhaps a result of whole scenes being cut. What's left is still more dramatically layered and thematically complex than most Australian cinema of the time, with an audacious musical score by Paul Schutze.
The Tale of Ruby Rose was released in Australian cinemas on 31 March 1988. At the 1987 AFI Awards, it was nominated for Best Picture and Director and Paul Schutze won the award for Best Original Music. The National Film and Sound Archive has recently restored the print as part of the Deluxe-Kodak project, with assistance from Roger Scholes and Screen Tasmania.