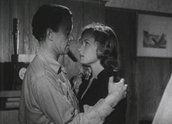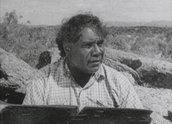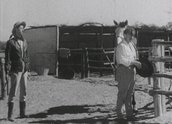 The Phantom Stockman (1953)
Synopsis
Kim Marsden (Jeanette Elphick) inherits a cattle station near Alice Springs. Convinced that her father was murdered, Kim asks local Aborigines to send a message to 'the Sundowner', a legendary bushman who roams the outback. Adopting the name Ted Simpson, the Sundowner (Chips Rafferty) arrives at Kim's station with his Aboriginal offsider, Dancer (Henry Murdoch). Given work by station manager McLeod (Max Osbiston), the Sundowner and Dancer discover cattle rustlers have been stealing Kim's stock. Evidence points to Stapleton (Guy Doleman), the owner of a nearby station who has romantic designs on Kim. Kidnapped by Stapleton's henchmen, the Sundowner uses his powers of mental telepathy to alert Dancer.
Curator's notes
Captain Thunderbolt (directed by Cecil Holmes) and The Phantom Stockman are the only Australian features produced in 1953. Filmmaking was declared a non-essential industry at the time and budgets in excess of £10,000 were not permitted. Unable to realise large-scale projects each had been planning, Chips Rafferty and Lee Robinson decided to collaborate on The Phantom Stockman, a modestly-priced outback drama centred on a heroine whose situation bears more than a passing resemblance to that of cattle heiress Lady Sarah Ashley in Baz Luhrmann's big budget 'Aussie western', Australia (2008).
It was the beginning of a significant creative partnership between Robinson and Rafferty, which also produced King of the Coral Sea (1954), Walk Into Paradise (1956) and Dust in the Sun (1958). Australia's most popular actor in the immediate postwar era and an undisputed national cinema icon, Rafferty spent ten years as a bushman before entering the movies and is perfectly cast as the Sundowner. Fair-minded and morally upright, the Sundowner is an Australian equivalent of the no-nonsense cowboy in American westerns who rides gallantly into trouble and 'sorts things out' (see clip three).
In plot basics and costume design, The Phantom Stockman resembles an American 'B' western but there is never any doubt the Sundowner is 100 per cent Australian. Rafferty never spoke in anything but his distinctly Aussie twang, unlike many local actors prior to the '70s film revival who adjusted their voices to sound more English than Australian. Although paced a little too leisurely the movie offers splendid visuals of rugged territory around Alice Springs and a fascinating look at relationships between black and white Australia. While never outright dismissive of Indigenous characters, McLeod has little time for Kim's assertion that Aborigines in the Northern Territory can summon the Sundowner (see clip one) by methods involving song and smoke signals. The Sundowner thinks and acts differently. His trusted partner is Dancer, an Aboriginal horseman (that said, there is little doubt as to who's the boss), and the Sundowner has perfected a method of mental telepathy known only to Aborigines, which ultimately saves the day.
Also noteworthy is a cameo by the great and influential Indigenous painter Albert Namatjira. The subject of Namatjira the Painter, a 1947 documentary made by Lee Robinson during his spell with the Film Division of the Department of the Interior, Namatjira appears as himself and is greeted by the Sundowner as an old friend. This brief scene (see clip two) does not add much to the story but is valuable as the artist's sole feature film appearance. A Sydney model making her film debut, Jeanette Elphick changed her screen name to Victoria Shaw and enjoyed a successful American film and television career with major roles in The Eddy Duchin Story (1956), The Crimson Kimono (1959) and Alvarez Kelly (1966).
The Phantom Stockman was a major success. Prior to Australian release in June 1953 it notched up £23,000 (more than double its budget) in overseas sales. It played in the UK as Cattle Station and was retitled Return of the Plainsman for its US release on 15 September 1953.
Secondary curator's notes
by
Liz McNiven
The Phantom Stockman takes its place within the history of Australian cinema alongside other Lee Robinson and Chips Rafferty productions. This filmmaking duo used the Australian landscape, and Indigenous peoples as part of that landscape, as an exotic backdrop for crime fiction and adventure. In doing so, they kept the industry alive during a very lean period. Together they established the pattern of reliance on Aboriginal peoples and their cultural heritage, and on the country's magnificent land and seascapes, as the ultimate stars of the Australian screen.
Consistent with the attitude of the day, the film treats Aboriginal people in a kind but paternalistic manner. In line with other Robinson-Rafferty films, The Phantom Stockman cast a large number of Indigenous actors in supporting roles and as extras (see also King of the Coral Sea, 1954). This footage would be of great interest to their descendents.
It was Baldwin Spencer who introduced film to the Aboriginal people of central Australia in the early 20th century. There was a sustained interest in filming Aboriginal people and their cultural practices that continued for the next half of the century. By the 1950s, Aboriginal people from central Australia had performed in numerous films made by the church, the government, home-movie makers, and by both documentary and feature film producers.