Cecil Holmes
23 June 1923 – 24 August 1994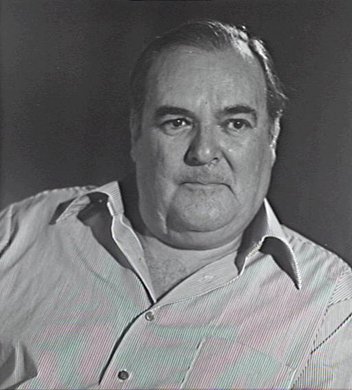 See also
Related people
Related events
NFSA Historian Graham Shirley celebrates the life and work of filmmaker, author, journalist, humanitarian and champion of social justice Cecil Holmes.
Cecil Holmes packed into his lifetime as much as others might have struggled to fit into three. Filmmaker, author, journalist, humanitarian and champion of the underprivileged, Holmes was a passionate, committed and determined man who started making
significant Australian films in an era in which finance for local features was drying up.
Holmes's example, and the kinds of films he made – true to life and with an underpinning of social justice – encouraged the next generation of filmmakers who emerged in the early 1970s. Filmmaker Brian Hannant described Holmes as one of those 'who might hang their coats on non-conformist pegs; who yell a bit too loudly in support of the underdog; who use their talent to put salt on the tails of the bigwigs.'
New Zealand
Born on 23 June 1921 in Waipukarau, New Zealand, Cecil Holmes spent his formative years in New Zealand's Palmerstone North, where his interest in filmmaking was stirred by a double bill of Alfred Hitchcock's The Thirty-Nine Steps (1935) and Harry Watt's landmark documentary Night Mail (1936).
Serving first in the Royal New Zealand Air Force, subsequently as a lieutenant in the Royal Navy during the Second World War, his boat was torpedoed and he was wounded in the North Sea. He was mentioned in despatches and awarded a brace of medals. During his leave he visited England's Denham Studios. He later described this time as his 'film school' experience as he watched Carol Reed, David Lean, Michael Powell and Laurence Olivier directing features.
In 1945 Holmes joined New Zealand's National Film Unit (NFU) as a newsreel editor, quickly moving to direction with innovative documentaries including Power from the River (1947), Mail Run (1947), The Change-Over (1948) and The Coaster (1948). At the NFU he led Public Service Association and other union campaigns for staff insurance and overtime. In late 1948 he made headlines when the Dominion newspaper printed a stolen letter with details of his membership of the Communist Party of New Zealand. The NZ Labor Government used the letter to discredit the union campaigns for NFU pay rises. Dismissed from the NFU, then reinstated, Holmes decided to move permanently to Australia in November 1949.
Australia and feature films
After directing The Food Machine (1950) for the Shell Film Unit, Holmes linked with fellow New Zealander Colin Scrimgeour, whose company Associated TV Pty Ltd produced several short films directed by Holmes, including his debut feature, Captain Thunderbolt (see the trailer and more stills here). While Captain Thunderbolt (1953) was eventually profitable, the film's delayed returns forced Scrimgeour to disband Associated TV. Scrimgeour next bought the lease on Sydney's well-equipped Pagewood studios, which he allowed Holmes to use rent-free for his second feature, the three-part tribute to Australian mateship, Three in One (1957).
Aided by a well-coordinated crew who had worked for several years on the feature film Long John Silver (Byron Haskin, Australia–US, 1954) and its spin-off TV series, Three in One allowed Holmes more mastery of cinema, and his direction of actors was stronger than in Thunderbolt. Thematically, it shared Thunderbolt's championship of the battler, deflating pompous, tight-fisted or just plain nasty authority figures. Three in One earned high praise overseas, along with a special prize at Czechoslovakia's Karlovy Vary Film Festival. But like Thunderbolt, it was ignored by the Australian film trade and was only screened in full in Australia by the Sydney TV station TCN-9.
Holmes's feature career would certainly have flourished in a healthier production climate, but he was of the middle generation of Australian filmmakers who were up against public, corporate and government apathy toward Australian cinema. His unrealised projects included two with Indigenous themes, The Flung Spear and Call Me by My Proper Name, an adaptation of Joseph Conrad's The Planter of Malata (1914), and Mackie's in Town, about a campaign waged in the 1960s by Mt Isa (Qld) unionist Pat Mackie. In 1972 he directed the dramatised Gentle Strangers for Film Australia, dealing with problems encountered by Asian students in Australia. For reasons that Holmes later called Film Australia's 'insidious self-censorship', the film was cut before completion from 75 to 58 minutes.
Indigenous involvement
From 1960 Cecil Holmes made a major contribution to Australian documentary with films on Indigenous themes. Produced for the Commonwealth Film Unit (later Film Australia), the Australian Broadcasting Commission (later Corporation) and the Methodist Overseas Mission, these films included I the Aboriginal (1961), Lotu (1960), Faces in the Sun (1961), and The Islanders (1967). For the Institute of Aboriginal Studies (later AIATSIS), he made a series of ethnographic films in collaboration with his second wife Sandra, who undertook research, liaison and sound recording for the Holmes-directed Djalambu (1964), The Yabuduruwa Ceremony (1964), Uwar at Goulburn Island (1964) and The Lorrkun Ceremony of Croker Island (1964). One of his documentaries for the Seven Network, White Men in Black Skins (1967), attacked government assimilation policy, while the other, Return to the Dreaming (1973), covered the return of the significant artist Yirawala to his traditional land.
In 1964 Holmes and his family moved to Darwin, where he edited the Rupert Murdoch-owned magazine The Territorian, taking up the causes of white and black underprivileged. Holmes joined the Aboriginal Rights Council, fighting beside Indigenous leaders Philip Roberts, Davis Daniels and Dexter Daniels for Indigenous citizenship and equality in rights and pay. Among Holmes's investigative stories for the ABC's This Day Tonight in 1967 was one that showed the impact of mining at Gove on the people of Yirrkala. The painter Yirawala was to adopt the Holmes family (including the children, Clinton and Amanda) into his own, while community elder Alie Mungatopi also adopted them into Melville Island's Tiwi community. After Holmes died on 24 August 1994 he was mourned widely by Indigenous communities who had respected him for his friendship and battle for their rights.
Cecil Holmes remembered
Cecil Holmes was a mentor and writer for the new generation of producers and directors including Anthony Buckley, Donald Crombie, Esben Storm and Haydn Keenan, and continues to be widely remembered and highly regarded in the Australian filmmaking community. Always articulate, forthright and showing a breadth of knowledge that ranged far beyond filmmaking into other cultures and lands, literature and history, he was an inspiration to many. The Australian Directors Guild's annual Cecil Holmes Award – its most prestigious award – is named in his memory.
External Links
Citations
Vale – Cecil Holmes, 1921-1994 (1994)
Hannant, Brian
ASDA (Australian Screen Directors' Association) Newsletter, Aug–Sep 1994
One Man's Way (1986)
Holmes, Cecil
Penguin Books: Ringwood, Victoria
Cecil Holmes 1921–1994 (1994)
Holmes, Sandra
Australian Aboriginal Studies, No. 1
Australian film, 1900-1977: A Guide to Feature Film Production (1998)
Pike, Andrew and Ross Cooper
Melbourne: Oxford University Press ISBN 0195507843
Director Focussed on Underdog – Cecil Holmes, Filmmaker, Journalist and Author (1994)
Shirley, Graham
The Australian, 31 August 1994
The Cecil Holmes Memorial Award (1995)
Shirley, Graham
ASDA (Australian Screen Directors' Association) Newsletter, July–Aug 1995
Australian Cinema: The First Eighty Years (1989)
Shirley, Graham and Brian Adams
Sydney: Currency Press ISBN 0868192325