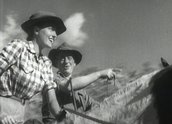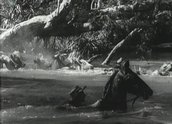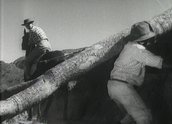 The Overlanders (1946)
Synopsis
With Australia's north under threat of Japanese invasion in 1942, the government orders the withdrawal of all people and resources – a 'scorched earth policy'. Delivering his mob of 1,000 prime beef cattle to the meatworks at Wyndham in Western Australia, drover Dan McAlpine (Chips Rafferty) is told to shoot them. He refuses and hatches a plan. He will drive the cattle to safety further south – a 2,600 km journey to Queensland at the wrong time of year across land that few believe can be crossed.
Experienced drovers refuse the job, leaving only the desperates. McAlpine starts with 'Corky' Corkindale (John Fernside), an inveterate gambler and drinker from Ireland, and Hunter (Peter Pagan), a Scottish sailor who hates the sea. McAlpine is relieved when experienced beef man Bill Parsons (John Nugent Hayward) joins the drive with his wife (Jean Blue) and daughters Mary (Daphne Campbell) and Helen (Helen Grieve). Two Aboriginal stockmen, Jacky (Clyde Combo) and Nipper (Henry Murdoch), agree to come, as well as two brothers, Les (uncredited) and Charlie (Frank Ransome), who are keen to save their 20 horses.
McAlpine leads the party across crocodile-infested rivers into the interior where drought threatens their existence. A large number of the stockhorses die from poisonous weed. Les and Charlie desert with their horses, so McAlpine traps and breaks a mob of wild brumbies to replace them. The sailor, known now as Sinbad, falls in love with Mary Parsons, but he is badly injured in a night stampede. With the mob dying of thirst, McAlpine leads them over a treacherous mountain pass to water. Jacky and Mary are almost killed in the attempt. The cattle stampede again when they smell the waterhole and have to be headed away, lest they are all drowned in a bog. After eight months, McAlpine's epic drive ends at the coast near Rockhampton. The party moves on to Brisbane where Sinbad has made a full recovery. A government minister (Marshall Crosby) thanks them at an official send-off at Brisbane airport. Thanks to McAlpine's idea, a vast southward migration of cattle has begun all across the north.
Curator's notes
The Overlanders was a vastly influential film for Australian filmmakers in the dark days following the Second World War. Australian cinema was crippled by the war, with production grinding almost to a halt through shortages of manpower, film stock and money. This film began as a propaganda production while the war was still going on. In 1943, the Australian government asked the British Ministry of Information to make a film to publicise Australia's war effort. The Ministry passed the task on to Michael Balcon, head of Ealing Studios, who sent the distinguished filmmaker Harry Watt to Australia to come up with an idea.
Watt's reputation would have been well known to many Australian filmmakers. He was one of the leading figures in the British documentary movement in the 1930s, having collaborated with Basil Wright on Night Mail (1936), one of the most famous documentaries of that period. Watt had also made two wartime features, Nine Men (1942) and Fiddlers Three (1944). To some extent, all of these films had been made as propaganda, either for the postal service or the British war effort. Watt was an expert at making documentaries that looked like feature films and feature films with the reality of documentary. The Overlanders continued in that tradition.
The inspiration was a true story told to Watt by an official of the Australian food administration. During 1942, 85,000 head of cattle had been driven south from northern Western Australia in order to protect them from the Japanese attack. Watt flew to the Northern Territory to research the route and find locations. He then wrote a screenplay that brought together a set of strong characters projecting his sense of Australian values: self-reliance, bush toughness, ingenuity and egalitarianism. The resulting film flattered Australian self-image as it exploited the wild northern landscape to the fullest for foreign audiences.
Watt imported a small number of key personnel from Britain but most of the crew was Australian. John Heyer was a second unit cameraman, concentrating on aerials of the 500 cattle purchased for the film. These were re-sold at a profit after the film was finished – a first for an Australian film. Shooting began in Sydney in April 1945 as the war in Europe was ending. The war had been over for a year by September 1946 when the film premiered in Sydney at the Lyceum Theatre. The response in Australia was rapturous but The Overlanders was popular wherever it was shown, including the UK and the US. Almost no films made in Australia before the war had been able to crack both of these markets.
The Overlanders provided the example that young Australian filmmakers were looking for – it was a film of great quality, made with uncompromising authenticity, about a strongly Australian subject that was also commercially successful. It was not an American-style offshore production using Australia as an exotic backdrop but a carefully researched film made to reflect Australian realities. The fact that it was made to such a high standard impressed everyone in Australia, although not enough that the Australian government was willing to give Ealing, the most famous British studio in the world at the time, any real backing in their next few productions. Ealing wanted to set up a permanent production base in Australia, but managed only a handful of films, because they couldn't attract enough private or public investment.
Harry Watt stayed on to make Eureka Stockade in 1949 – an overt statement based on his leftist politics, made at a time when Australians were being asked to vote for a ban on the Communist Party (which they declined to allow). He assisted maverick Dutch filmmaker Joris Ivens on his clandestine political documentary Indonesia Calling (1946) and had strong connections with the Waterside Workers' Federation Film Unit. None of this would have endeared him to the new conservative government of Australia, elected in 1949. Whether this radicalism influenced the government's reluctance to support Ealing's efforts is not known. There were certainly more pressing economic needs in the years following the war, such as housing shortages, but it is true that Australia missed a chance to encourage the re-establishment of a feature film industry at this point.
It's also true that The Overlanders had a major influence on a great many feature films made in Australia – from The Shiralee in 1957 right through to Baz Luhrmann's 2008 film Australia, which also features a major cattle drive. Harry Watt's film remains one of the classics of postwar Australian cinema.