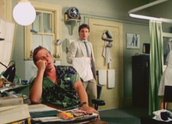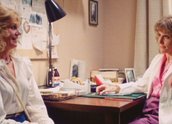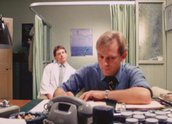 The Clinic (1982)
Synopsis
Medical student Paul Armstrong (Simon Burke) arrives at a busy Melbourne VD (venereal disease) clinic. Paul intends to study the work of Dr Eric Linden (Chris Haywood), Dr Carol Young (Rona McLeod) and Dr Hassad (Max Bruch). In the course of his one-day visit Paul encounters a diverse collection of patients including homosexual man Charlie (Geoff Parry), middle-class woman Nancy (Veronica Lang), and Carl (Martin Sharman), who has contracted a sexual disease after cheating on his fiancée.
Curator's notes
A rare example of a comic drama set in a centre for treating venereal disease, The Clinic marked a successful feature debut for David Stevens, who directed the highly regarded TV mini-series A Town Like Alice (1981) and co-wrote Breaker Morant (1980).
The screenplay of The Clinic was by Greg Millin, who once worked in a Sydney establishment similar to the Melbourne clinic presented here. Featuring characters from all social strata and ethnic backgrounds, The Clinic is also packed with enough information on sexually transmitted diseases to just about qualify as an educational film. In this respect The Clinic bears some similarities with The Love Epidemic (1975, director Brian Trenchard-Smith), a documentary about venereal disease that included comedy sequences.
Taking place over the course of a single day it is structured in classic Grand Hotel (1932) style, with a multitude of dramas playing out in the consulting rooms of Drs Linden, Young and Hassad while anxious patients and overworked staff stream in and out of the crowded reception area. With the sometimes shocked reactions of straitlaced medical student Paul Armstrong anchoring the busy goings-on, the result is a briskly-paced item that doesn't go for big belly laughs but keeps the chuckles coming at a steady clip.
Chris Haywood – one of Australia's most prolific and respected actors over the past 40 years – is terrific as Dr Linden, very much the laidback Aussie male whose sensitive and non-judgemental manner with frequently embarrassed patients plays a major part in making the movie both amusing and accessible. Linden's homosexuality comes as a genuine surprise (see clip three) and is cleverly worked into the film's very clear advocacy of tolerance of minorities such as gays, sex workers, hippies and migrants.
There's also a very serious side to the film. Largely through the character of Alda (Pat Evison), the clinic's veteran counsellor, we meet troubled patients such as Warwick (Ned Lander), a depressed young man who has lost his job as a result of contracting venereal disease, and Carl (Martin Sharman), who has cheated on his fiancée and must face the daunting tasks of admitting his infidelity and advising her to attend the clinic for testing.
With a fine sense of rhythm, director Stevens and editor Edward McQueen-Mason balance these serious elements with an amusing parade of patients including overtly gay Charlie (see clip one) and a hippie (Danny Nash), who's thrilled to have his 'condition' photographed for medical research purposes. Notable by its absence in The Clinic is any specific mention of the AIDS virus. AIDS was certainly known about in 1983 but its devastating potential was not yet embedded in general public consciousness at the time of the film's release.
Advertised with the clever tagline 'a highly infectious comedy', The Clinic enjoyed a profitable run in Australian cinemas and received a limited release in New York in 1985. The film received AFI award nominations for Best Supporting Actress (Pat Evison) and Best Original Screenplay (Greg Millin).
The Clinic was released in Australian cinemas on 21 April 1983.