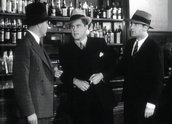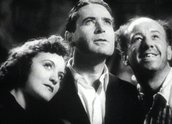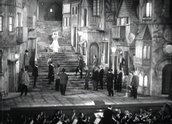 The Broken Melody (1938)
Synopsis
John Ainsworth (Lloyd Hughes) ruins his good prospects after a drunken brawl in a Sydney nightclub. Expelled from his musical studies at the university and thrown off his father's property, he falls on hard times in a city in the grip of the Depression. Homeless and hungry, he is rescued by Joe Larkin (Alec Kellaway), a vagabond thief who lives in a cave by Sydney Harbour. John in turn rescues a woman who's about to throw herself in the harbour. Ann Brady (Diana Du Cane) was the singer he kissed six months earlier in the nightclub.
The three become cave dwellers among the down-and-outs of Woolloomooloo, until John's violin playing scores him a job at a jazz café. A French musical entrepreneur, Jules de Latanac (Frank Harvey), invites him to perform in London, but Ann disappears, fearing she will hold him back. John becomes a huge success in London, writing and conducting operas under the name John Hilton, with Joe as his faithful manservant. A temperamental French diva, Madame Le Lange (Rosalind Kennerdale), makes him her conductor and her lover.
Several years later, they return to Australia on tour. John prepares to debut a new opera that he wrote for Ann Brady, unaware that she is now a trained opera singer calling herself Ann Jones. With Joe's help, she becomes a secret understudy for Mme Le Lange's leading role. When John is called to the hospital, to his gravely ill father, the opera begins without him. Mme Le Lange refuses to sing the final act, so Ann Jones steps in. John returns to the conductor's dais, unaware that this gifted understudy is his long-lost love. Ann triumphs in the role, and their romance begins anew.
Curator's notes
The Broken Melody was pretty much the last time that Ken Hall attempted a straight drama at Cinesound. From Let George Do It (1938) on, Cinesound made only comedies, until the studio was mothballed by the coming of the Second World War (Hall returned to drama for Smithy, 1946, after the war, but that was not a Cinesound film).
It may be that Hall was sick of melodrama, having made three such films in a row (Tall Timbers, 1937, and Lovers and Luggers, 1937, being the preceding films), or that a new regime at the parent company Greater Union demanded more comedy, sensing more profit. It's more likely that Hall simply decided comedy was his forte, as it always had been. It's certainly true that his own sense of pessimism about the future was growing in 1938, as can be seen in the way he wrote about the period in his autobiography, Directed by Ken G Hall (1977). 'By 1938 the Depression had lost some of its grip but the prospect of war with Hitler's Germany was menacingly there', he wrote. 'Too many, especially people in high places, just did not want to see it, hoped that if everybody kept very quiet it would go away. There was tension in the air, refugees from Hitler's anti-Jewish policies were flowing into Australia. There was great disquiet among people able to think.'
In this context, The Broken Melody is clearly one of Cinesound's most political pictures, albeit in a concealed way. A film with music rather than a musical, it's also one of the few films of the 1930s that tries to depict the Depression's effects on real people. Whether Ken Hall included the Jewish man (seen in clip two) as a statement of solidarity is hard to know. Foreigners were not often shown in a sympathetic way in Cinesound films, but Sam Harris, owner of the nightclub where John starts to make his comeback, is certainly not an unsympathetic character. Jewish migration to Australia was controversial at the time, as Hall would have known. His inclusion of this character, in light of his comments above, may have been sympathetic, but there is some room for doubt. Film researcher and teacher William Routt has claimed that the French villain Pierre in Dad and Dave Come to Town (1938), made a few months later, is a sinister stereotype of a Jewish character.
The depiction of the victims of the Depression is certainly more clearly sympathetic – even when they are thieves like Joe Larkin (clip one). Nearly all of Cinesound's films were made under the cloud of the Depression, from 1932 to 1940, but very few refer to it directly. The Broken Melody does it in the usual Cinesound way – with back projection, in studio – but audiences in Sydney in 1938 would have recognised its veracity. Many people were living in caves and shelters along the harbour foreshore – notably in The Domain, near Woolloomooloo. There is even a hint of their hostility to outsiders in the way they first look at John Ainsworth. Music, in this sense, becomes a salve to their wounded spirits. As unlikely and melodramatic as the film's plot becomes, The Broken Melody is a film about hope in dark times.