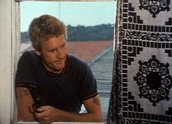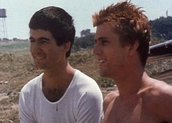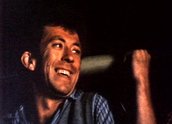 Summer City (1977)
Synopsis
In the early 1960s, Sandy (John Jarratt), Boo (Steve Bisley), Scollop (Mel Gibson) and Robbie (Phil Avalon) drive to the beaches north of Sydney for a surfing weekend. The boys are planning to give Sandy a memorable 'one last fling' before his impending marriage. Tension flares between university-educated Sandy and ocker Boo when Sandy decides not to join in the fun. At a local dance, Boo seduces Caroline (Debbie Forman), the teenage daughter of a caravan park owner (James Elliott) who discovers what has happened and comes looking for Boo with a gun.
Curator's notes
Best known as Mel Gibson's first movie, Summer City is a mix of surfing and social commentary set in the early 1960s. Produced on a miniscule $66,000 budget raised from private sources, it was the first of many feature films written and produced by Phil Avalon, a surfing champion and highly successful model. Avalon was studying acting at the Independent Theatre in Sydney and had joined the Sydney Filmmaker's Co-operative. As he explains, 'To make a quid, I'd go and do a centrefold for Cleo and then put the money into a film'. Steve Bisley and Mel Gibson were students at NIDA and were recommended to Avalon by John Jarratt, who'd been cast as Sandy. A native of Newcastle, north of Sydney, Avalon set out to capture the spirit of Australia in the days when pounds and pence were still the currency and disc jockeys such as Ward 'Pally' Austin (who makes a cameo appearance) ruled the AM radio airwaves.
As writer, producer and actor, Avalon decided against also directing the film. 'I was making the coffee as well', he remembers. He hired Christopher Fraser, a talented young director of TV commercials at Fontana Films, and this remains his only feature credit. Geared toward younger viewers, Summer City is a laid-back, loosely structured road movie that emerges as more than just a throwaway thanks to strong performances and a script that digs beneath the surface of its apparently carefree characters. The chief point of interest is the tension between Boo and Sandy. Vividly portrayed by Steve Bisley, Boo is the ultimate 'ocker', a hard-drinking, womanising loudmouth who thinks university-educated Sandy is 'up himself' for not wanting to get drunk and 'score chicks' like him. Sandy is the moral centre of the movie. He doesn't understand what surfing means to the other guys (see clip two) and can't agree with Robbie that after he gets married 'it's all over'. Sandy is a man; the other three are man-boys who don't want to look beyond the next set of waves. Though Mel Gibson has relatively little screen time as Boo's sidekick Scollop, his star quality is plain to see.
Technically it is rather ragged, with muffled sound in spots and uneven 16mm photography (blown up to 35mm for release). Some beautiful sunsets and surfing sequences stand out, but the camera movement and lighting in dramatic scenes is of variable quality. A highlight is the original music by Phil Butkis, a TV jingle writer whose score evokes the surf guitar twang of Duane Eddy and the jingle-jangle piano of Jerry Lee Lewis and Little Richard. Australian hits of the era – Shout by Johnny O'Keefe, The Delltones' 1963 smash Hangin' Five – round out the highly effective soundtrack.
Summer City did extraordinarily good business, earning more than one million dollars at the Australian box office. At drive-ins it played on a successful double bill with the British rock'n'roll nostalgia piece That'll Be the Day (1973). Avalon also took a 16mm print on a profitable 'roadshow' tour of the Australian east coast. Internationally, Summer City was widely distributed on video cassette (340,000 units were shipped for one release) but few of the profits were returned to the inexperienced Avalon and his team. 'We were young, we didn't know how to collect', he recalls. Although choppy and very much a first film for all the major players, Summer City has a gritty quality that makes it an interesting example of low-budget independent Australian cinema. As Phil Avalon puts it, 'We were young and bulletproof then'.
Summer City was released in Australian cinemas on 22 December 1977.