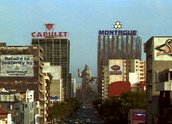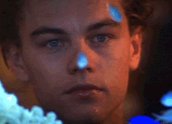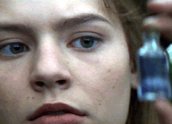 Romeo + Juliet (1996)
Synopsis
The city of Verona Beach is dominated by a bitter feud between the families of Fulgencio Capulet (Paul Sorvino) and Ted Montague (Brian Dennehy). Ted's son, Romeo (Leonardo DiCaprio), sneaks into a masked ball at the Capulet mansion and falls in love with Fulgencio's daughter, Juliet (Clare Danes). Romeo and Juliet are secretly married by Father Laurence (Pete Postlethwaite), who hopes the union will help end the fighting. Incensed with Romeo for attending the party, Juliet's cousin Tybalt (John Leguizamo) challenges Romeo to a duel. When Romeo refuses, his friend Mercutio (Harold Perrineau) steps in and is slain by Tybalt. Romeo kills Tybalt in revenge and is banished from Verona by Captain Prince (Vondie Curtis-Hall), the chief of police. Now engaged to Dave Paris (Paul Rudd) and suicidal on the eve of her wedding, Juliet seeks help from Father Laurence. He offers her a potion that will give her the appearance of death for 24 hours, allowing her to escape and elope with Romeo. A message informing Romeo of the plan does not arrive. Returning to Verona Beach and finding Juliet apparently dead, Romeo takes poison. Juliet awakens, only to watch Romeo die. She takes Romeo's gun and places it to her head.
Curator's notes
Transforming the famous tale of 'star cross'd lovers' into a spectacle complete with drag queens, flashy cars and designer handguns brandished by gang members with pink and orange hair, Romeo + Juliet broke all the rules that supposedly applied to filming Shakespeare. Prior to the mid-90s there were two distinct categories of Shakespearean movies. The traditional type typified by Laurence Olivier's productions (Henry V, 1944; Hamlet, 1948), faithfully retained original dialogue and settings. The other variety – of which Joe Macbeth (1955), Forbidden Planet (1956), West Side Story (1961), All Night Long (1962) and Men of Respect (1991) are among the many examples – used Shakespeare's plots in modern settings but discarded the language. Although it must be noted that Richard Loncraine's 1930s-set adaptation of Richard III (1995) arrived in cinemas a few months earlier, it is this radical update of Romeo + Juliet that most boldly shattered conventional wisdom that said Shakespeare as he wrote it would never appeal to a mass audience.
Following his hit debut, Strictly Ballroom (1992), director Baz Luhrmann approached the most famous love story of them all with a significantly larger budget (Romeo + Juliet was financed by Hollywood studio 20th Century Fox) and much greater confidence in his filmmaking capabilities. Experienced with reworking classics following his triumphant update of the opera La Bohème (now set in 1957) in Sydney in 1990, Luhrmann transported the teenage lovers out of Shakespeare's Verona and into the heightened reality of a Verona Beach in the 1990s littered with 20th century pop culture references. In this world the Capulet-Montague feud is a corporate rivalry between mob boss-like Fulgencio Capulet and Ted Montague, a representative of the rich white establishment. While the patriarchs stare at each other from adjacent skyscrapers, younger members of the clans play out the blood feud at gas stations, beaches and on graffiti-lined streets that bring to mind the East Los Angeles of Colors (1985) and the sweaty Miami of Scarface (1983).
With the crucial input of Luhrmann's all-Australian key creative collaborators – co-writer Craig Pearce, production designer Catherine Martin, costume designer Kym Barrett, editor Jill Bilcock and cinematographer Donald M McAlpine – this hyperkinetic version of Romeo + Juliet proved that, given the right visual treatment, Shakespearean dialogue could appeal to audiences in the same age bracket as the play's young lovers. Set to a thumping soundtrack of pop, rock and disco songs (and a dash of opera including 'Liebestod' from Wagner's Tristan and Isolde in the death scene), Romeo + Juliet is Shakespeare as a teen flick, with 21-year-old heart-throb Leonardo Di Caprio evoking the 'live fast die young' persona of James Dean as he speeds toward Tybalt in his sports car, and 16-year-old Claire Danes capturing all the spontaneity and romantic ripeness of the virginal Juliet.
Always a risk-taker, Luhrmann cast only two British actors in material that 'belongs' to the English stage: Pete Postlethwaite as Father Laurence and Miriam Margolyes, who supplies much of the film's humour as Juliet's Hispanic maid. Elsewhere, John Leguizamo is terrific as a hot-blooded Latino incarnation of Tybalt and Diane Venora shrieks marvellously as Juliet's nakedly ambitious Southern belle mother, Gloria. While purists may object to pruning of the original text (Ted Montague utters barely a word here) and shake their heads at the sights of Sycamore Grove as a carnival midway and Romeo's friend Mercutio as an African-American transvestite disco dolly, this ultra-flamboyant Romeo + Juliet proved, at the very least, that Shakespeare doesn't have to be stuffy.
Unsurprisingly, critical reaction varied wildly but the film-going public had the final say. Romeo + Juliet was a major success, grossing more than $US 140 million and paving the way for more movies, including Titus (1999), A Midsummer Night's Dream (1999), Love's Labours Lost (2000) and the Australian-made Macbeth (2006), presenting Shakespeare's language in modern dress.
Romeo + Juliet was released in Australian cinemas on 26 December 1996.