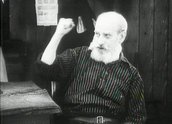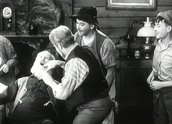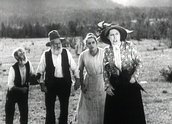 On Our Selection (1932)
Synopsis
Drought has all but ruined the Rudd family 'selection' in south-western Queensland, but Dad Rudd (Bert Bailey) and his wife (Alfreda Bevan) hold grimly to the land. He's in debt to a ruthless neighbour, Old Carey (Len Budrick), who seizes his cattle in an attempt to get his hands on part of Rudd's land. Carey's son Jim (John Warwick) wants to get his hands on Kate Rudd (Molly Raynor), the eldest daughter. She's keen, despite warnings from her long-standing suitor, Sandy Graham (Richard Fair), that Carey is up to no good. Kate goes to the city to relieve pressure on the family, but the rains come and the Rudds once again rebuild their stock.
When Kate returns, Jim Carey tries to force her into a marriage by threatening to sully her reputation. Sandy knocks him out, and Carey dies. As Kate frets over Sandy's safety, Dave the eldest son (Fred MacDonald) marries his sweetheart, Lily White (Lilias Adeson), and Dad repeatedly rebuffs Billy Bearup (Fred Browne), who wants to marry Sarah (Bobbie Beaumont), the younger Rudd daughter. The youngest son Joe (Ossie Wenban) continually causes mischief, adding to his father's woes. Sandy is eventually cleared of suspicion of murder, when Cranky Jack (Fred Kerry) admits his part in the death of Jim Carey. Kate and Sandy are then free to marry, to the delight of all the Rudds.
Curator's notes
This version of On Our Selection may not have the rustic charm of Raymond Longford's 1920 silent version, the first film made of Steele Rudd's much-loved stories, but it did have one major asset – the power of speech. The Australian film industry had not produced a solid hit since For the Term of His Natural Life in 1927, and the country by 1931 was in the grip of the Great Depression. Australasian Films was in dire financial straits, and the cost of producing films with sound was hugely prohibitive. Frank Thring produced Diggers in Melbourne in that year with sound recording equipment imported at great expense from the USA, but the film was only moderately successful. On Our Selection was a major gamble, for several reasons.
Stuart Doyle, the hard-nosed head of Australasian Films and Union Theatres (soon to become Cinesound and Greater Union) entrusted the film to Ken G Hall, his personal assistant, who had never made a feature, let alone one with sound. Hall was then about 30, an experienced publicist who had also been a theatre manager and journalist, and a keen student of Hollywood film technique. Hall had been approached by Bert Cross, head of Australasian's film laboratory in Bondi Junction, who claimed that he and a young Tasmanian sound engineer, Arthur Smith, had developed their own process for putting sound on film. This was completely independent of the systems that had been developed by Western Electric and RCA in the US, and using different technology. Hall convinced Doyle that it could work, and On Our Selection was the first feature on which the system was used.
The film may look quite static to modern eyes, but given the technical constraints under which it was made, it's an absolutely astonishing feat in the history of Australian film. Cross and Smith developed not just a new recorder for shooting on location, they built a system that allowed Hall to shoot away from mains power, and another system that allowed the editor, George Malcolm, to play back sound in his editing room. Shooting the film in the Bondi Junction studio would have been difficult enough, but Hall managed to shoot most of the movie on location, at Castlereagh near Penrith, with live recording of sound.
The script comes more from the 1912 play, adapted by Bert Bailey and Edmund Duggan, than directly from Steele Rudd's 1899 book. The melodramatic story of the murder of Jim Carey, for example, is not in the original stories, and it jars with the broad comedy in this version of the film. Bailey had been touring the play successfully for twenty years when the idea for a sound film came up. Most of the cast came from the play, as did the style of declamatory acting. Ken Hall tried hard to open the play out with strong locations, but he later wrote that neither he nor Bert Bailey really understood at this early stage that the screen required a much-reduced style of acting. Even so, the film has some very effective humour, much of it verbal. It was a box-office sensation when it opened in mid-1932. Audiences applauded throughout, and the profits helped to save Australasian Films, and set up Cinesound as the major force it would become in Australian production – before the advent of World War Two shut down all production.
Indeed, it is fair to say that On Our Selection was the key film in restarting the Australian industry in the sound era. Cinesound went on to make seventeen features between 1932 and Smithy in 1946. All but one of them (Strike Me Lucky) made a profit. On Our Selection, according to Ken Hall in his autobiography, cost £6,000 to make and returned £70,000 to the distributor. Ken Hall's movies got much better, but On Our Selection was the film that got him started.