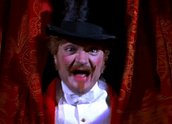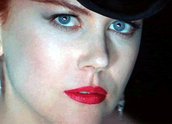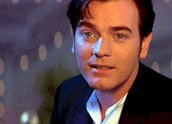 Moulin Rouge! (2001)
Synopsis
English writer Christian (Ewan McGregor) recalls his tumultuous experiences at the Moulin Rouge nightclub in Montmartre. Arriving in 1899 to be inspired by the bohemian atmosphere in the Parisian locality, Christian falls under the spell of the Moulin Rouge's star attraction, Satine (Nicole Kidman), a beautiful courtesan who is secretly dying of consumption. With the help of painter and playwright Henri de Toulouse-Lautrec (John Leguizamo), Christian finds himself in Satine's apartment but his happiness is short-lived. Satine has mistaken him for the Duke (Richard Roxburgh), a rich man who wants 'exclusive rights' to Satine in exchange for financial backing that will allow Moulin Rouge impresario Zidler (Jim Broadbent) to convert the nightclub into a modern theatre. With the Duke's funding forthcoming, Christian is commissioned to write for the revamped Moulin Rouge's opening night attraction. During rehearsals Satine's symptoms become worse. Aware that she does not have long to live, she vows to spend every remaining moment with Christian.
Curator's notes
Described by director Baz Luhrmann as a 'comic tragic opera', Moulin Rouge! is a tour de force of imagination and appropriation. Where else are you going to hear disco classic 'Don't Leave Me This Way' (1975) and U2's 'Pride (In the Name of Love)' sung on a Paris rooftop in 1899 (see clip three) in a love story combining elements of Alexandre Dumas's La Dame aux Camélias (1848) and Verdi's opera La Traviata (1853) that's loaded with song and dance numbers inspired by everything from 1930s RKO and Warner Bros musicals to Fox and MGM colour classics from the 1950s and the Bollywood extravaganzas of today?
An Australia-US co-production filmed entirely at Fox Studios in Sydney (with minor shooting on a Madrid soundstage), Moulin Rouge! was a risky venture for director Baz Luhrmann. Australia had virtually no history of musicals – Gillian Armstrong's Starstruck (1982) is a rare exception – and the movie musical itself had not enjoyed much worldwide popularity since the late 1960s. Particularly out of favour were musicals in which song lyrics advance the plot, as they do in Moulin Rouge!.
Just as he had made Shakespeare appealing to a large and predominantly young audience with his version of Romeo + Juliet (1996), Luhrmann made Moulin Rouge! relevant to modern audiences by packing the soundtrack with pop songs and adopting a hyperkinetic approach to filming and shooting. One of the best examples of this postmodern take on an old-fashioned form of cinema is the entrance of Satine (see clip two). The sequence begins with the look of a 1930s musical that Busby Berkeley might have choreographed. Satine then launches into a song that combines the 1940s show tune 'Diamonds Are a Girl's Best Friend' (1949) with Madonna's 1985 hit 'Material Girl' – the music video of which famously imitated Marilyn Monroe's performance of 'Diamonds Are a Girl's Best Friend' in the 1953 movie musical Gentlemen Prefer Blondes.
An entire thesis could be written about the references and borrowing that goes on visually and musically in Moulin Rouge! but what matters most of all is the sheer exuberance of the enterprise. It bursts with life and a great deal of humour – silent-era slapstick, 1930s screwball comedy and 60s sex-farce hijinks abound – while playing out the tragic tale of a dying beauty and the man who loved her with the kindest heart of all her admirers. With cast members performing their own vocals and throwing themselves marvellously into the 'anything and everything goes' spirit of the production (Jim Broadbent and John Leguizamo are dynamite in against type roles), Moulin Rouge! is a giddy entertainment that revels in its occasional vulgarity – the Moulin Rouge is the home of the naughty cancan dance, after all.
The contributions of production designer Catherine Martin, choreographer John O'Connell, costume designers Angus Strathie and Catherine Martin, director of photography Donald M McAlpine and editor Jill Bilcock cannot be underestimated. Most of this team worked with Luhrmann on Romeo + Juliet (1996) and again provided a stunning realisation of the director's vision.
Chosen to open the 2001 Cannes Film Festival, Moulin Rouge! was a major hit, accumulating more than $US 170 million worldwide and earning 8 Oscar nominations including Best Picture and Best Actress (Nicole Kidman). It won the Oscars for Best Art Direction-Set Decoration (Catherine Martin, art director; Brigitte Brock, set decorator) and Best Costume Design (Catherine Martin and Angus Strathie). The success of Moulin Rouge! also helped revive the movie musical, with Chicago (2002) and The Producers (2005) among those that followed. If ever a movie deserved to include an exclamation mark in its title, Moulin Rouge! is it.
Moulin Rouge! was released in Australian cinemas on 24 May 2001.