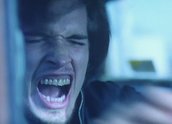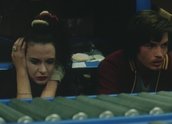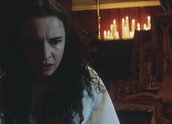 Metal Skin (1994)
Synopsis
Melbourne, 1994. Joe (Aden Young) lives with his mentally-ill father (Petru Gheorghiu) in working-class Altona. A shy misfit whose great love is hotted-up cars, Joe gets a job at a supermarket where he is befriended by fellow revhead Dazey (Ben Mendelsohn), a confident womaniser at the crossroads with his girlfriend, Roslyn (Nadine Garner). Savina (Tara Morice), a devil worshipper who works with Joe, feigns interest in him to get closer to Dazey. When Joe discovers Savina's deceit he embarks on a violent and tragic rampage.
Curator's notes
Metal Skin was writer-director Geoffrey Wright's highly anticipated follow-up to Romper Stomper (1992), a controversial and commercially successful drama set among Melbourne's skinhead community that won both high praise and condemnation from critics and audiences alike.
Returning to the grimy streets of working-class Melbourne, Wright's Metal Skin is an extremely bleak drama about young misfits who have the odds stacked overwhelmingly against them. The compelling focus of the drama is Joe, or 'Psycho Joe' as he is locally known. Very well portrayed by Aden Young, Joe is a severely damaged soul whose newly-struck friendship with the confident Dazey promises to help him overcome his sense of worthlessness (see clip two). Joe is a challenging central character for audiences and it's to the credit of both Wright and Young that he evokes sympathy even as the rage boiling inside him explodes in the latter stages of the story.
The same applies to each of the seriously flawed characters surrounding Joe. Dazey is a rogue and womaniser, but he has a heart beneath all his macho swagger and posturing. At first calculating and with a heartless disregard for Joe's feelings, Tara Morice's Savina gradually reveals a painful vulnerability that can at least be partially attributed to her childhood brush with death and living under the same roof as her clean-freak mother played by an impressive Chantal Contouri (Thirst, 1979). Although given less screen time than might have been expected, third–billed Nadine Garner leaves a lasting impression when the full extent of Roslyn's traumatic past comes to light.
Filmed with ferocity by Romper Stomper (1992) cameraman Ron Hagen and edited with the same sort of fuel-injected thrust in the engines of Joe and Dazey's hotted-up cars (see clip one), Metal Skin can be gruelling viewing at times but it is also very rewarding. It takes an uncompromising look at Aussie man-car love and offers no false optimism as the lives of its characters reach breaking point.
Despite generally positive reviews and selection in the 1994 Venice Film Festival, Metal Skin proved a disappointment at the Australian box office when it was released on 4 May 1995. It won AFI Awards in 1995 for Best Production Design (Steven Jones–Evans) and Best Sound (Frank Lipson, David Lee, Steve Burgess, Peter Burgess, Glenn Newnham) and received nominations for Best Actor (Aden Young), Supporting Actor (Ben Mendelsohn), Supporting Actress (Nadine Garner) and Costume Design (Anna Borghesi). Aden Young and Ben Mendelsohn shared the Film Critics' Circle of Australia prize for Best Actor.