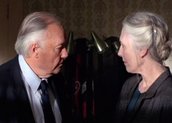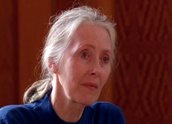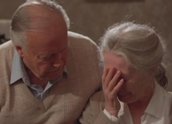 Innocence (2000)
Synopsis
Widower and retired musician Andreas (Charles Tingwell) writes to his first love, Claire (Julia Blake), who has long been married, expressing his desire to meet for the first time since their youthful love affair in Europe 50-odd years ago. They have lunch and find that despite the intervening years the old spark is still there. He tries to persuade her to restart their relationship but although she resists, she says that she will always love him. Later he tries ringing her but she only takes the call when her husband, John (Terry Norris), is absent. She decides she would like to see him again.
Andreas takes her to view his wife's grave, which is being dug up to make way for a construction site, and reveals that she died from an illness 30 years ago. Andreas persuades Claire to go to bed with him and they make tender love. The next day Claire, realising something profound has happened, tells her husband John (Terry Norris), but he thinks she's joking. Later she convinces him she is telling the truth and John is profoundly shocked and upset. It becomes clear that Claire and John have had a loving relationship that long ago slipped into safe predictability and complacency. It's later revealed that she knows he was unfaithful to her many years ago.
Andreas and Claire each confide in their grown offspring – Andreas's daughter Monique (Marta Dusseldorp) and Claire and John's son David (Robert Menzies) – whose reactions are understanding rather than hostile. Claire and John's relationship rapidly deteriorates. He demands she see a 'doctor' and starts to follow Claire. She visits Andreas in hospital, where he's having tests. The tension is finally resolved by an unexpected event.
Curator's notes
The principal themes of Innocence – love, mortality, spirituality – are found throughout the work of veteran auteur filmmaker Paul Cox (Cactus, 1986; A Woman's Tale, 1991), but find a particularly intense and satisfying expression here. The film became one of the Dutch-born Australian filmmaker's most widely admired and internationally successful features. It gained cinema (as opposed to only TV or DVD) release in many territories including Japan and Russia, the latter countries a first for a Cox film. Influential American critic Roger Ebert proclaimed it the best film he saw at the Cannes Film Festival in 2000.
Perhaps the strangest thing about Innocence is the title, the meaning of which is not immediately obvious but provides a moral and philosophical framework in which to discuss its events. On a literal level it appears Cox is proclaiming that the spirituality of love goes hand in hand with moral innocence. Yet by highlighting the genuine trauma caused to Claire's husband John by her affair with Andreas, this notion is complicated in a deeply interesting way.
True love is a path that must be followed – an idea that comes into sharp existential focus as an individual ages and looks towards death. The film suggests that in circumstances such as these, love must necessarily be accompanied by pain and sorrow. In this way the film is ruthlessly unsentimental. Instead of the banal story a shallower filmmaker might have made about love being eternal, Innocence is built around the more complex notion that love, death, pain and spiritual transcendence are locked in a close embrace.
One of the clues to the title is contained in a low-key conversation between Andreas and his daughter Monique. He recalls that when she had her ears pierced as a young woman he was angry because he felt she had lost her innocence. The suggestion is that innocence is something connected to youth that we lose by going through the rites of passage to adulthood. This, at least, is Andreas's way of seeing things. While he pursues the pure love of his youth, he appears remarkably untroubled by the distress the love affair is causing to Claire's husband. It's striking that a sense of guilt (the opposite of innocence) at his adultery is entirely absent from Andreas's conscience.
Julia Blake and Terry Norris – a married couple in real life – were named best actress and supporting actor at the Film Critics Circle of Australia Awards. At the IF Awards Blake won best actress, Paul Cox was named best filmmaker and the film won trophies for best feature, editing and sound design. The Montreal Film Festival gave Cox the Grand Prix des Amériques and the People's Choice Award, and international critics at the Taormina Film Festival awarded it the FIPRESCI prize.
Blake and Norris were nominated at the AFI Awards but Cox failed to gain a nomination for his script or direction. Cox and fellow producer Mark Patterson were also overlooked in the best feature category. Given the praise the film has received overseas, this could be construed as evidence of the hostility that Cox has claimed recently to have experienced from the Australian film industry, though the film's other Australian awards show his work has strong supporters.