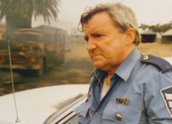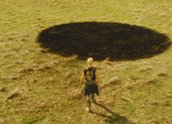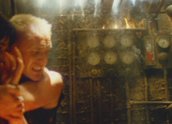 Incident at Raven's Gate (1988)
Synopsis
Country police officer Taylor (Max Cullen) is investigating the theft of a football trophy. His search leads to Raven's Gate, an isolated property that has witnessed a destructive cosmic happening. He is met there by Dr Hemmings (Terry Camilleri), a parapsychologist with a special branch of government. Events flash back to five days before the incident. Recently released from prison, Eddie Cleary (Steven Vidler) is working for his brother, Richard (Ritchie Singer) and Richard's wife, Rachel (Celine O'Leary) on their wheat farm near Raven's Gate. Engaged in a casual affair with local barmaid Annie (Saturday Rosenberg), Eddie is also attracted to Rachel. Strange things start happening. Dead birds fall from the sky, machines break down, a black circle appears in Richard's field. Local cop Skinner (Vincent Gil) becomes dangerously obsessed with Annie and Rachel falls into Eddie's arms. A shocking supernatural manifestation takes place at Raven's Gate and its malevolent force appears headed for the Cleary farm.
Curator's notes
Incident at Raven's Gate is the second feature directed by Rolf de Heer (Ten Canoes, 2006; The Quiet Room, 1996) and is one of very few Australian movies to incorporate science-fiction themes. While the source of strange events is never explicitly stated, it is clear 'something' beyond the rational is wreaking havoc on the landscape and people living near Raven's Gate. The original screenplay was written by James Michael Vernon, principally a producer whose credits include Outback Vampires (1987) and rock'n'roll sci-fi cult item Sons of Steel (1989).
Reworking Vernon's script, de Heer and co-writer Marc Rosenberg cleverly overcome the film's modest shooting budget ($1.1 million) by not attempting to compete with big budget sci-fi. There are no spaceships or aliens in rubber suits. Special effects are modest but highly effective, with Richard Michalak's inventive cinematography playing a vital role. The wraparound story involving local cop Taylor and shady agent Hemmings lends an air of conspiracy and cover-up. Could secretive government activities be involved?
Following his family film debut Tail of a Tiger (1984), de Heer stepped up considerably here in terms of content and execution. Eliciting strong performances from a solid cast, he also collaborated impressively with Michalak and camera operator Andrew Lesnie (who went on to win an Oscar for The Lord of the Rings: The Fellowship of the Ring, 2001) to instil an uncomfortable ambience around Raven's Gate. Many shots sweep along the ground before rising high above the landscape, giving the impression of an alien or supernatural presence watching and manipulating events (see clip two).
The film's strength lies in the relationship it forms between this strange presence and the behaviour of vulnerable characters in the outback – the epicentre of fear in the Australian imagination. Eddie, an ex-con, does not fit comfortably into the landscape or the role of farmhand on his brother's property. Richard does not trust Eddie to carry out his work properly and suspects his wife, Rachel, and his brother are hiding something from him. In the nearby town, local policeman Felix Skinner, played by Mad Max (1979) and Stone (1974) alumnus Vincent Gil, has become dangerously obsessed with Annie, a barmaid involved with Eddie. As tensions flare and lives are suddenly placed in danger it seems as though a malevolent force has partly taken hold of the characters and is exploiting their weaknesses.
Sound also plays a significant role. Graham Tardif, who has scored almost all de Heer's features, and fellow composer Roman Kronen contribute eerie music to a soundtrack layered with effects such as distorted voices and creepy industrial rumblings (see clip one). The combination of complex audio and striking widescreen visuals shows how imagination and technical expertise can make a low-budget movie look much bigger. The resourcefulness of de Heer and his team is at its best in the extended finale in which violent supernatural forces are unleashed at Raven's Gate and the Cleary farm (see clip three).
Incident at Raven's Gate was released theatrically for a short season in Sydney and Melbourne and then came out on home video a month later. It received limited US release in 1990 under the title Encounter at Raven's Gate. At the 1988 AFI Awards, the film was nominated for Best Original Score (Graham Tardif and Roman Kronen) and Production Design (Judith Russell).