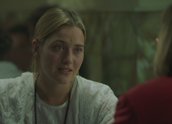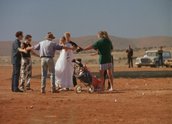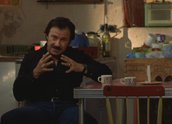 Holy Smoke (1999)
Synopsis
While visiting India, young Australian woman Ruth Barron (Kate Winslet) falls under the spell of a guru. Ruth's alarmed mother, Miriam (Julie Hamilton), travels to Delhi and lures Ruth home with a lie that her father (Tim Robertson) is terminally ill. At the family home in suburban Sydney, Ruth's brothers Tim (Paul Goddard) and Robbie (Dan Wyllie), and Robbie's wife Yvonne (Sophie Lee), believe Ruth has become 'possessed' by her new–found spirituality and call in professional help.
Hired to deprogram Ruth is PJ Waters (Harvey Keitel), an American who specialises in 'exiting' young people from religious cults. Ruth reluctantly agrees to spend three days with Waters at an isolated house in outback New South Wales. With her family stationed at a nearby property, Ruth attempts to turn the tables on Waters by searching for weaknesses in his psychological makeup.
Curator's notes
Following period pieces The Piano (1993) and The Portrait of a Lady (1996), New Zealand filmmaker Jane Campion's Holy Smoke, a US production funded by Miramax Films, was her first feature set in contemporary times since her 1989 debut, Sweetie. Though the backdrops of Delhi, suburban Sydney and outback NSW were very different from the 19th century locales of The Piano and The Portrait of a Lady, Campion's consistent theme of exploring the lives of unusual, and unusually determined, women is very much intact here.
As with many Campion heroines, Ruth Barron (played by Kate Winslet with the most convincing Aussie suburban accent any overseas actor has ever produced in an Australian film) is struggling to assert an identity. What she believes in and how she sees herself runs against the grain of social convention and is not understood, and therefore feared, by her narrow-minded family.
The strong point that Campion and her co-writer (and sister) Anna Campion make is that if anyone's crazy here it is Ruth's relatives. They think nothing of first concocting a lie to lure Ruth back home, nor staging a family intervention (see clip two) that brings cult deprogrammer PJ Waters into the picture.
Ruth's unworldly mother (see clip one) and her father, who wears swimming briefs around the house, are examples of suburban comic grotesques. They live in Sans Souci, a Sydney seaside suburb whose name translates from the French as 'carefree,' yet there is nothing carefree about their attitude to the changes in Ruth's life nor the fact that she hardly seems to act like the kind of cult robot they think she has become.
The screenplay bristles with swipes against conservatism and hypocrisy as Ruth's calm assertion that she has found happiness is contrasted with the behaviour of her extended family. Particularly targeted is Ruth's sister in-law Yvonne, whose brazen sexual advances toward Waters are both a betrayal of her husband Robbie and threaten to destabilise Waters' work with Ruth.
Following his outstanding performance in a very against-type role in The Piano (1993), Harvey Keitel arrives in Holy Smoke with all the confidence and no-nonsense presence of the Mr fix–it he played in Pulp Fiction (1994). Citing his record of successfully exiting 189 subjects with only a three per cent rate of recidivism, Waters believes he can easily break Ruth down and return her to 'normality.'
The intriguing core of Holy Smoke is the verbal and psychological combat between Ruth and Waters (see clip three). In the great tradition of a Campion heroine, it is Ruth who is able to reverse the procedure that's meant to take place and find the cracks in Waters' super-confident façade. The sexual element that inevitably enters the equation propels the encounter into fascinating territory and gives a strong impression that the deprogrammer is being deprogrammed by his subject and it is Waters who needs this encounter much more than Ruth.
Produced by the highly respected Jan Chapman (The Piano, 1993; Lantana, 2001; and Bright Star, 2009), Holy Smoke was beautifully filmed by Dion Beebe, the Australian cinematographer who won an Oscar for Memoirs of a Geisha (2006). The music score by Angelo Badalamenti – famous for his many collaborations with David Lynch – perfectly suits the script's freewheeling combination of idiosyncratic humour, broad satire and intense personal drama.
Holy Smoke! was released in Australian cinemas on 26 December 1999. It received mixed reviews and performed moderately at the Australian and international box office. Jane Campion and Kate Winslet were jointly awarded the Elvira Notari prize at the 1999 Venice Film Festival, where the film was selected for competition.