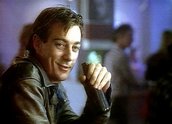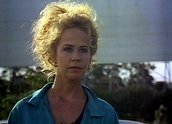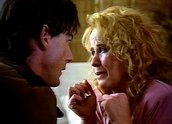 Fatal Bond (1991)
Synopsis
Small town hairdresser Leonie Stevens (Linda Blair) is instantly attracted to mysterious drifter Joe Martinez (Jerome Ehlers). Leonie packs her bags and heads south with Joe, who says he's going to set up a car business with his brother Jack. En route, Joe seduces teenager Bree Boon (Penny Pederson), who is later found murdered. Her strictly religious father, Anthony (Stephen Leeder), starts his own investigation into Bree's death and stumbles on Leonie at the site of another murder linked to Joe. Meanwhile, Jack has disappeared and it seems his business associates, Rocky Borgetti (Donal Gibson) and Claw Miller (Joe Bugner), know more than they're saying. Leonie suspects Joe is a serial killer and decides to leave him.
Curator's notes
Fatal Bond is a compact road thriller packaged by producer-writer Phil Avalon for the international market. It received a small theatrical release in Australia and was sold profitably on home video in many offshore markets. One of six low-budget features put together by Avalon between 1988 and 1995, it featured an imported star (Linda Blair) and makes good use of coastal locations as the 'is-he-or-isn't-he-a-killer' tale unfolds. Avalon explains his simple methodology, 'I'd go to international film markets and ask buyers "what do you want to see?" If they wanted a thriller with beach locations I'd go and make that'.
Directed by Vincent Monton, a cinematographer with credits including Newsfront (1978), Long Weekend (1978) and Roadgames (1981), Fatal Bond has a lively collection of characters and generates a decent degree of suspense as Leonie's dream transforms into a nightmare. Jerome Ehlers, who resembles the young, swaggering Robert Mitchum, fits the part well as seductive and mysterious Joe, whose dangerous charm intoxicates Leonie. There's no mystery about Joe's dark side, but the question of whether or not he's a killer is kept bubbling along nicely until the finale – a crucial factor in making Leonie's position believable and maintaining viewer interest.
The Exorcist (1973) star Linda Blair, who made the thriller Dead Sleep in Australia the previous year, is well cast as the trusting Leonie and there are solid contributions from Stephen Leeder as the vigilante father, and Caz Lederman and Roger Ward as the detectives on the case. Always on the lookout for marketable cast members, Avalon hired Mel Gibson's brother Donal and former WBF heavyweight champion 'Aussie' Joe Bugner to play (quite decently as it turned out) Jack's shady business partners.
Locations along the New South Wales north coast are effectively used during Joe and Leonie's road trip, and the abandoned Skyline drive-in at Warriewood, Sydney, is a terrific spot for Claw and Rocky's headquarters (see clip two). Avalon rented the site for $1,000 per week, which included the right to blow up a shed constructed for the movie. Apart from being a capable 'B' movie, Fatal Bond is a vintage car lover's treat. Joe drives a 1962 Valiant S series (known as 'the rocket car' among buffs), and his pursuer Anthony Boon owns a mid-1960s Citroen 'Goddess'. It must be the only film ever to feature these two vehicles squaring off against each other at the climax. Fatal Bond is no masterpiece of the genre and the 'big hair' sported by Blair and other female cast members hasn't stood the test of time very well, but it's a respectable entry in the annals of Aussie road thrillers.
Fatal Bond was released in Australian cinemas on 5 March 1992.