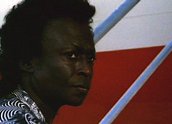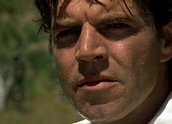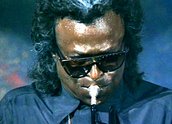 Synopsis
On a hot day in Poona Flat, Western Australia, in 1969, legendary American jazz trumpeter Billy Cross (Miles Davis) plays an impromptu concert on the tarmac after his plane makes an unscheduled stop. John Anderson (Daniel Scott), aged nine, decides on the spot to become a trumpet player. Twenty years later, John (Colin Friels) has developed a unique style based on the sounds of the Australian bush, particularly the dingo, but he's still in Poona Flat. He makes a living as a dogger (a man who traps and shoots dingoes) and dreams of going to Paris to play with Billy Cross. He has kept in touch with his idol, sending letters and tapes of his music. Approaching his 30th birthday, and without telling his wife Jane (Helen Buday), Anderson flies to Paris. He wants to know if he's good enough. Billy Cross is now an ailing recluse, but he and his French wife (Bernadette Lafont) take him in. John makes his solo debut at a famous club and Billy comes out of retirement to join him on stage. John returns to Poona Flat, in time for his 'surprise' birthday party.
Curator's notes
Dingo is an extremely eccentric illustration of a perennial movie theme: that one must follow one's dreams. It started life as a script by Marc Rosenberg in which an Australian bushman with a love of all things American went to the US. After Crocodile Dundee came out with a similar plot trajectory, the character became an Australian drummer who went to France. Further scripting turned him into a trumpeter, and eventually Miles Davis agreed to play the part of the musician who inspires 'Dingo' Anderson. Davis suggested that he and French composer Michel Legrand write the music together. Colin Friels took trumpet lessons so that he could look convincing as a player, but American session trumpeter Chuck Finley played his music.
By the time shooting began in outback Meekatharra, WA(Western Australia), the film had become a French-Australian co-production, with a French cameraman (Denis Lenoir) and an American jazz legend who had a reputation for being difficult, working in extreme heat a long way from conventional comforts. 'I was wary of the potential problems right from the start', Rolf de Heer said in 1991. 'I realised casting Miles would either make or break the film, both financially and artistically … He turned out to be a wonderfully instinctive actor. When he wasn't in the moment as his character he forgot the dialogue … this made it impossible for him to be bad. Most of the time he was 'in the moment' and very good. He was extraordinary, wonderful to work with. Like any actor not always easy but much, much easier than we expected.'
Film music is usually composed after shooting has been done; in this case, it had to be recorded beforehand, so that performances could be filmed to match the tracks. One of the initial difficulties, encountered on the first day of shooting with Miles Davis (the concert on the runway – clip one) was that he tended to play a different interpretation of the music with each take, rather than sticking to the notes already recorded. 'We rehearsed and rehearsed and time and again Miles would find himself playing an improvised counter-melody against the original trumpet line. It was beautiful but unusable. Those first few hours with Miles and the whole attendant circus were the most despairing hours of filming I've ever done. Then gradually, Miles learnt this new discipline, this new way of playing, and slowly the weight started to lift'.
For jazz fans, the idea of an outback trumpeter who can become good enough playing alone to jam with the best in the business was outlandish, but the film works hard to establish some sense of reality. John 'Dingo' Anderson's practising alone in the desert is not as outlandish as it might seem. Bernie McGann, one of the best saxophone players in Australia, is said to have developed his sound through long hours of playing solo in the Royal National Park, south of Sydney, when he worked as a postman at Bundeena.
The box office for Dingo, which was not a low-budget film (it cost $5.6 million in 1991), was disappointing, but the film has had a long life on video and DVD, and the soundtrack is still popular. It's a very likeable film, partly because of its eccentric story and casting. In terms of Rolf de Heer's career, it is a turning point, almost the last time he has worked on someone else's original script. His next film was the seminal Bad Boy Bubby (also included on this website).