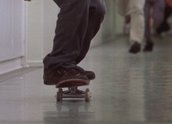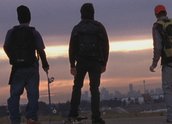 Deck Dogz (2005)
Synopsis
Three teenage friends in western Sydney spend their lives on skateboards, clashing with police, parents and the school principal. Jay 'Spasm' Filkins (Sean Kennedy) dreams of being a professional skater, like his hero, Tony Hawk. Robert 'Poker' Benardi (Richard Wilson) and Phong 'Blue Flame' Trang (Ho Thi Lu), the other members of the 'Deck Dogz', believe he can do it if he wins at Beachbowl, the big skate competition at Maroubra Beach. Their first problem is that Spasm's confiscated board is locked in a school cupboard. When Poker and Blue rescue it they accidentally set fire to the school.
The three Dogz take off on a skate trip across Sydney, heading for Beachbowl, chased by the cops and two drug dealers, Kurt (Brendan Cowell) and Pigeon (Mitchell McMahon). They are looking for Poker's brother Dean, who now lives in Kings Cross. The Dogz rescue Dean just in time, but the dealers are waiting when the three friends arrive in Maroubra. Blue uses his homemade paintball gun to protect Poker. Spasm almost misses his turn in the competition but Tony Hawk, 12-time world champion skater, is impressed with Spasm's courage. As the police realise the Deck Dogz are innocent, Tony Hawk gives Spasm one of his own boards.
Curator's notes
Deck Dogz is the first feature of Steve Pasvolsky, a graduate of the Australian Film, Television and Radio School. It was made cheaply but with considerable energy and imagination. It gives a good sense of the passion with which these young suburban rebels skate – it's more than a sport or hobby, closer to art or competitive dancing. The skate sequences are cleverly shot to give the audience a sense of the thrill, and Pasvolsky uses the road-movie format effectively. There's a touch of the suburban epic about this film, as the three misunderstood misfits take off before dawn to skate across Sydney. There's no Dorothy, but they're like her three companions in The Wizard of Oz (1939), heading for the Emerald City. Poker is the troubled teenager whose brother is into drugs; Blue is a Vietnamese Australian kid, full of self-doubt; Spasm has lots of artistic talent and a good brain, but a fractured relationship with his father Jack (Anthony Cogin).
None of their parents, except the single father Jack, seems to play a big part in their lives. Poker doesn't seem to have any parents and Blue's mother and father are traditional Vietnamese migrants who have never learned to speak more than rudimentary English. Pasvolsky stresses the sense of freedom and fellowship the three boys get from skating, and the sense of fun. It's partly an attempt to show the depth of the bonds of friendship at that age, complete with secret language and competitive phrase coining, as when Blue says, 'You guys are completely hibiscus!'. The secrecy extends to the skating as well, because the spirit of their creativity is anti-commercial – despite Spasm's desire to become a pro, like American skating legend Tony Hawk, who presides over the competition.
Pasvolsky has said he was determined to avoid making a commercial skate movie that simply exploited the interests of a young audience:
The skating had to be part of the film, not exploited by it. Skateboarding is primarily about the moment. There's just you and the board and if you are not in that moment you are eating bitumen. Skaters will keep changing and developing what they do to counter commercial influences. It's a sport for kids on the outer, an opportunity to be more rebellious. It's a kind of family.
Deck Dogz was released in Australian cinemas on 13 January 2005.