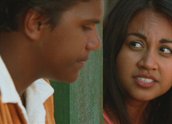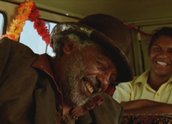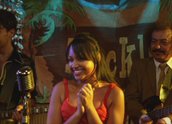 Bran Nue Dae (2009)
Synopsis
Broome boy Willy (Rocky McKenzie) must choose between studying to become a priest or following his heart and pursuing his love for Rosie (Jessica Mauboy). Rosie, an aspiring singer, loves to hang out at the bar and is invited to join Lester (Dan Sultan) and his band. Willy, influenced by his dominating Christian mother Theresa (Ningali Lawford-Wolf) and local priest Pastor Flakkon (Stephen Baamba Albert), views the activities of the bar as sinful.
Willy returns to boarding school in Perth, but runs away following an incident with head priest Father Benedictus (Geoffrey Rush). He hitches a ride home with Uncle Tadpole (Ernie Dingo) and a young hippy couple, Annie (Missy Higgins) and Slippery (Tom Budge). Along the way they meet Roadhouse Betty (Magda Szubanski), a football team (the Chooky Dancers) and Roxanne (Deborah Mailman), and are pursued mercilessly by Benedictus. On arrival in Broome, Willy challenges Lester for Rosie's love and eventually wins her heart. Surprise family connections are then revealed, bringing everyone together.
Curator's notes
Based on Jimmy Chi's 1990 stage musical (see Bran Nue Dae, 1991), this film provides a light, refreshing and comical look at family relationships and the tangled web that love weaves through people's lives. Willy's journey represents the coming of age of an adolescent boy on the threshold of becoming a man. Director Rachel Perkins brings together a stunning array of outstanding musicians, dancers and actors to perform the original music by Jimmy Chi and the band Kuckles.
The musical and dance performances give this film its pulse and the actors provide fun, love and laughter. Dan Sultan gets the blood pumping as he performs 'Seeds that You Might Sow' in the company of his love interest, Rosie, and a bar full of sensual dancers (see clip one). Ernie Dingo and Deborah Mailman embody the spirit of their characters with a mix of alcohol-fuelled gaiety and mischief; Geoffrey Rush brings the eccentric Father Benedictus to life and singer Missy Higgins delights with her light-hearted representation of youthful 'hippiness'.
This happy uplifting film laces together the love story of Willy (played by newcomer Rocky McKenzie), and Rosie (singer-turned-actor Jessica Mauboy) with music, song and dance. If you want to lighten your heart and escape for a short while, watch this film.
Bran Nue Dae was released in Australian cinemas on 14 January 2010 and in the United States on 10 September 2010. It became the second highest-grossing Australian film of the year, with more than $7.7m in box-office earnings.
Deborah Mailman won the 2010 AFI Award for Best Supporting Actress and the film also received nominations for Best Film, Adapted Screenplay, Original Music Score (Cezary Skubiszewski, Jimmy Chi, Patrick Duttoo Bin Amat, Garry Gower, Michael Manolis Mavromatis, Stephen Pigram), Sound (Andrew Neil, Steve Burgess, Peter Mills, Mario Vaccaro, Blaire Slater, David Bridie, Scott Montgomery), Costume Design (Margot Wilson) and the Members' Choice Award for Best Film. The film was nominated for Best Director, Music (Cezary Skubiszewski, Jimmy Chi and Kuckles) and Production Design (Felicity Abbott) at the 2010 IF Awards.