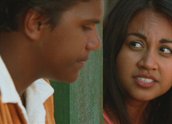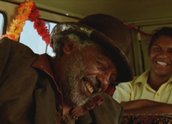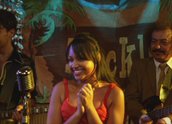 Bran Nue Dae (2009)
In 2017 a student workshop at the University of Konstanz in Germany created German subtitles for Bran Nue Dae and the film was finally given its German premiere in a small art house cinema.

Surprisingly enough – but perhaps not? - the Germans found much more of socially relevant content in the film than the curator's notes on this platform may suggest. Here is their review of Bran Nue Dae. Judge for yourselves whose insights you find more appropriate:

"Young Indigenous Willie loves Broome, his idyllic fishing village in Northern Australia. Willie also loves Rosie, his girl. Too bad, Willie must go to distant Perth to be re-educated in a seminary. And Rosie is harassed by nasty rock musician Lester. But Willie rebels against the Fathers, runs away and sets off on the long, long journey. Home, to Broome, and home to Rosie....

The plot lends itself to a kitschy musical comedy. Which Bran Nue Dae also is - but only on the surface. Why? Director Rachel Perkins, herself an Indigenous Australian and strongly committed to Aboriginal rights, allows the comic action to happen, but inserts a subversive subplot. The film often seems loopy and over-the-top. Until we slowly realise that "white" stereotypes of Aborigines are taken to extremes and thus exposed. The "Others" are also in real life either defamed as primitive drunkards, or feared as masters of dark magic.

Case in point? On their way home, Willie and his travelling companions are arrested in the town of Roebourne, handled quite roughly by the police and locked up overnight. In the cell, Willie's ancestors appear to him in a dream - he floats up into the night sky accompanied by their singing. Sweet folklore? In reality, in 1983, a 16-year-old Aboriginal boy died in police custody at night. That police station was in Roebourne. A government commission then investigated Aboriginal Deaths in Custody.

Bran Nue Dae is stark and funny, superbly acted, with fascinating landscape shots. Your laughter may occasionally get stuck in your throat.


#1 from ulrick – 2 years, 9 months ago.
To comment on this title, you need to be
logged in
.

RSS – Subscribe to an RSS feed of comments on this title. (learn about RSS)