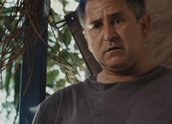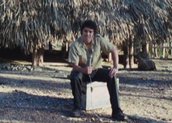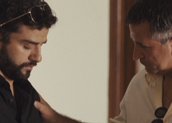 Balibo (2009)
Synopsis
Darwin, December 1975. Roger East (Anthony LaPaglia), a veteran Australian journalist, is approached by José Ramos-Horta (Oscar Isaac), the charismatic Secretary of Foreign Affairs for the government of East Timor. Ramos-Horta tells East that his fledgling republic, which has declared independence after 400 years of Portuguese rule, is under threat of invasion by neighbouring Indonesia. Offered a job as the head of Timor's independent news agency, East is reluctant until Ramos-Horta informs him that five Australian journalists have gone missing, presumed dead, near the border town of Balibo.
As East and Ramos-Horta search for the missing men, flashbacks reveal the fate of Greg Shackleton (Damon Gameau), Gary Cunningham (Gyton Grantley) and Tony Stewart (Mark Leonard Winter) from Channel Seven and the Channel Nine crew of Malcolm Rennie (Nathan Phillips) and Brian Peters (Thomas Wright). The events of 1975 are framed around the present-day memories of Juliana Da Costa (Bea Viegas), who remembers East as a guest at her family's hotel in the capital, Dili.
Curator's notes
The case of the 'Balibo Five' had been in and out of media headlines for more than 30 years before Robert Connolly turned his attention to what some Australians believe is one of the most shameful chapters in the nation's history. It is particularly difficult because it occurred during the prime ministership of Gough Whitlam (1972–75), a left-leaning progressive revered in many quarters for initiating the great leap forward in Australian arts and society in the 1970s. The subject matter was a natural for socially and politically conscious filmmaker Robert Connolly. In both films he'd directed, Three Dollars (2005) and The Bank (2001), Connolly told intimate stories of injustice and gave voice to those who are often not heard by authorities.
In Balibo he confidently took these themes to a much larger-scale production, filmed on the actual locations where terrible crimes are said to have taken place. Much has been written about events in East Timor in October–December 1975, including the movie's primary source material, Cover-up: the Inside Story of the Balibo Five (2001) by veteran journalist Jill Jolliffe. Despite compelling evidence to the contrary, successive Australian and Indonesian governments have maintained the line that the journalists were victims of 'accidental death in crossfire' during Indonesia's invasion of the new republic of East Timor.
What surely gave impetus for the film's production was an official New South Wales Government coronial inquest in 2007. On 16 November coroner Dorelle Pinch concluded that 'the journalists were not incidental casualties in the fighting, they were captured, then deliberately killed despite protesting their status.'
Although this was just the start of what is certain to be a lengthy legal process, Pinch's front-page findings put the issue back in the spotlight with an official stamp previously missing. Connolly chose David Williamson, the great Australian playwright (Don's Party, 1971) and screenwriter (Gallipoli, 1981), to collaborate on a screenplay that mixes undisputed fact with fictional elements (primarily Roger East and José Ramos-Horta's cross-country trek) and well-informed speculation on what precisely befell Greg Shackleton, Gary Cunningham, Tony Stewart, Malcolm Rennie and Brian Peters on 16 October 1975.
Cleverly structured to bring contemporary relevance to the tale, Balibo is bookended with the testimony of Juliana, a fictional Timorese woman who remembers her childhood in Dili and the kindness of Roger East. Exceptionally well performed by Anthony LaPaglia, Roger East is the conscience of Balibo. A real figure who was the last journalist left in Dili when the invasion occurred (see clip three), East was remarkably little known prior to the film. For reasons that might invite speculation about who writes histories and what personal and professional agendas they might have, East does not figure strongly in many published accounts. But here he is given his proper due as a jaded veteran who discovers there's a cause worth fighting for.
East's sometimes abrasive relationship with Ramos-Horta (played by a charismatic Oscar Isaac) is potently balanced with flashbacks showing the journey of the journalists four weeks earlier. Superbly shot by cinematographer Tristan Milani with the grainy look of TV news when it was gathered on film rather than videotape, the flashbacks are expertly edited by Nick Meyers to produce suspense even when the men's fate is known.
One of the highlights is undoubtedly a verbatim recreation of the final surviving report by Greg Shackleton (see clip two). Highly charged political dramas are rare in Australian cinema and although Balibo keeps its focus on the human story and makes only passing references to the political backdrop, it is a very angry film with a clear message that it believes Australians have been lied to by officialdom since 1975.
Balibo was banned by the Indonesian government in December 2009 when it was scheduled for a screening at the Jakarta Foreign Correspondents Club.
Balibo was released in Australian cinemas on 13 August 2009. It received 13 nominations at the 2009 AFI Awards and won prizes for Best Actor (Anthony LaPaglia), Supporting Actor (Oscar Isaac), Adapted Screenplay and Editing. Balibo also won awards for Best Editing (Nick Meyers) and Sound (Sam Petty, Emma Bortignon, Phil Heywood and Ann Aucote) at the 2009 IF Awards.