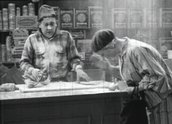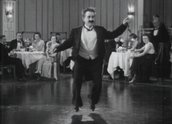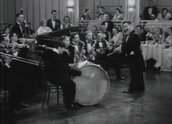 A Ticket in Tatts (1934)
Synopsis
George (George Wallace) gets fired from his job at a country grocer's shop. He is hired by the local stud farm, where he has a favourite horse. Hotspur is fancied to win the Melbourne Cup, but big city crooks want to prevent that. To get more information, George pretends to be a waiter at a nightclub where all the staff are performers. The crooks kidnap a jockey, so their preferred jockey can make sure that Hotspur loses. George uses his powerful whistle – to which the horse always responds with speed – to bring the new champion home. George can now propose to his sweetheart Marjorie (Joyce Turner).
Curator's notes
A Ticket in Tatts is one of George Wallace's first three films – all directed by Frank W Thring and based on shows Wallace had written and honed in vaudeville in the 1920s. They were essentially stage-bound but that suited Thring, a film exhibition impresario with a lease on a stage – His Majesty's Theatre in Melbourne. Thring began making movies in the theatre in 1931, with expensive sound recording equipment purchased in the US. He saved by not hiring directors, but it's difficult to say the money was well saved. Thring was a director of meagre talents, although he often worked with the best of Australia's theatrical performers – notably George Wallace.
A Ticket in Tatts was Wallace's third film for Thring's Efftee Film Productions, but the least of the films they made together. Wallace is less than sparkling and the script is threadbare. The paradox is that it's the one film that has a lot of location shooting – including scenes of what looks like the Melbourne Cup, possible from 1932 or '33. Thring and Wallace were clearly attempting to make the film less stage-bound than the first two (His Royal Highness, 1932, and Harmony Row, 1933) but that took them away from settings in which Wallace could sing and dance. The answer was to build in long sequences to be filmed back on the sound stage, whether they fitted the story or not. So we get a clumsy yokel routine in the grocery store (clip one) but a completely different kind of George in the nightclub scenes (clip two and clip three). The film also labours through an unlikely love story involving Dorothy Fleming (Thelma Scott), the pretty daughter of Hotspur's owner, caught between two suitors, played by Frank Harvey and Campbell Copelin (both of whom would later become regulars in Cinesound productions).
Wallace's performance in this movie retains some vaudeville elements, but it foreshadows the kinds of roles he would soon play at Cinesound, after Thring's unexpected death in early 1936. Ken G Hall, director of Cinesound, would cast him in 'action comedies', where Wallace was always the little guy caught up in bigger events. The difference is that Hall built sturdier stories around his new star, as in Let George Do It (1938). The downside is that Wallace lost some of the freshness in the intervening years. He is at his most inventive and playful in the first Efftee talkie, His Royal Highness, made in 1932. Thring's films were rougher than those Wallace made at Cinesound, but they give us a clearer idea of the tone of his vaudeville shows of the 1920s, when he was building a reputation to match that of Roy Rene, the other main contender for the title of Australia's greatest comedian.
It is clear that the film's script was heavily influenced by real events – notably the attempt to kill the champion horse Phar Lap before the Melbourne Cup (see Phar Lap, 1983). George plays a stablehand who has to sleep with the horse to protect it. Tommy Woodcock was famous in Australia for similarly sleeping in Phar Lap's stall.