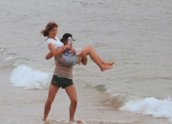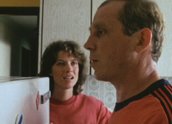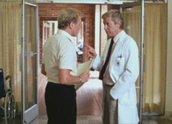 A Street to Die (1985)
Synopsis
Colin Turner (Chris Haywood) and his wife Lorraine (Jennifer Cluff) buy a war service home in an outer suburb of Sydney. Their neighbours are all veterans, many ex-Vietnam, like Col. He visits a doctor about his persistent rashes and other symptoms, but the doctor (Arianthe Galani) diagnoses stress. Lorraine begins to notice that other Vietnam veterans in their street have similar symptoms, and their children have abnormalities.
Blood tests at a hospital reveal that Col has leukaemia. He enters hospital for treatment and begins to research the chemicals used in Vietnam. He applies for a pension, citing Agent Orange as the cause of his illness, in a deliberate test case. Lorraine collects surveys showing a wide range of symptoms in other veterans. After his application is rejected, a legal aid lawyer, Peter Townley (Peter Hehir), joins the appeal. Colin dies before the appeal is heard, but Lorraine and the lawyer fight on. They eventually win the case, in a landmark decision for Vietnam veterans.
Curator's notes
This was Bill Bennett's first feature, after a couple of one-hour dramas for television. It established him as a distinctive new Australian voice, partly because of the combination of documentary realism and improvisation. He would take the latter much further in his later career, in films such as Kiss or Kill (1997). A Street to Die uses improvisation in several scenes, but it started with a fairly detailed script. The actors were then encouraged to experiment within given boundaries in certain key scenes (see clip two).
This kind of technique is unusual, even with filmmakers who favour the use of improvisation. One of the leaders in this technique, the British director Mike Leigh, makes use of improvisation for several months in preparatory work with actors. He then writes and films a completed script. Bennett used a more risky technique — improvisation in front of a camera on set. The choice of actors is crucial in this style. Chris Haywood was trained in improvisation at the E15 drama school in East London in the late 1960s. Jennifer Cluff had worked extensively in series television in the 1970s, where actors have always needed to be flexible and responsive.
The script is based on the true story of Colin and Lorraine Simpson. It was inspired by a report in The Weekend Australian newspaper about Morobe Street, Whalan, in western Sydney, where Vietnam veterans occupied many of the houses in the early 1980s. The news report said that every Vietnam veteran in the street was suffering from the effects of their service; Colin Simpson had just died. Lorraine Simpson worked extensively with the actors and crew to try to achieve reality in every aspect of the film. The exterior shots of the Turner house are the actual Simpson house. Interiors were filmed next door, because Lorraine Simpson and her children were still occupying the house. Bill Bennett has said, 'Everything that happens in that film actually happened'.
The role of Agent Orange and other chemicals used in Vietnam on the health of veterans is a continuing controversy. A series of lawsuits in the US resulted in small payouts to American and Australian veterans. In Australia, a Royal Commission into the effects of Agent Orange found no link between the defoliants used in Vietnam and cancer among veterans. These findings are still disputed by veterans' groups, who cite continuing medical research that does lend support to claims of a link. The Vietnamese government claims a large number of deaths and birth defects in Vietnam since the war are associated with the chemicals sprayed across large areas of jungle from 1961 to 1971. The Vietnamese government claims that 4.8 million Vietnamese were exposed to Agent Orange, resulting in 400,000 deaths and disabilities, and 500,000 birth defects. The chemicals were also used in Cambodia and Laos.
A Street to Die was released in Australian cinemas on 30 September 1985. It was nominated in four categories at the 1985 AFI Awards, including best director and screenplay for Bill Bennett, and best film. Chris Haywood won the award for best actor in a lead role. It remains one of the best performances on film of both leading actors. Cluff's performance is a significant part of the film's overall success.