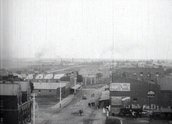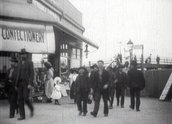 A Thriving and Prosperous Suburb: Bird's Eye View of Footscray (c.1911)
Synopsis
This short documentary with intertitles showcases the inner-west Melbourne suburb of Footscray. It includes a panoramic view of the locality, street scenes capturing the daily life of residents and business people, civic buildings, Flemington Racecourse, the Footscray Fire Brigade, men playing lawn bowls and crowds near the footbridge at Footscray Railway Station.
Curator's notes
This is one of the earliest moving image recordings of Footscray. According to the Footscray Advertiser newspaper, most of the footage was shot on 14 December 1910 by a Pathé Australian Animated Gazette film crew (see Footscray 1911 for an example of the unedited footage). The finished film screened a few days later on 17 December at the Federal Hall in Footscray to coincide with the Federal Picture Company's first weekly picture show in Melbourne's suburbs. The film was shown again the following year with added footage when the Federal Picture Company's new theatre, the Grand, opened in November 1911.
Historical actuality footage of daily life in Melbourne also features in Johnson and Gibson's short documentary Living Hawthorn (1906). Both films screened to local audiences intimately familiar with the areas, some of whom would have recognised themselves or their businesses on film.