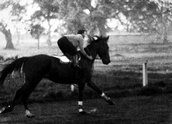 The Mighty Conqueror (1931)
Synopsis
This short documentary made by the McDonagh sisters (Paulette, Isobel and Phyllis) shows Phar Lap on and off the track. It includes footage of the gelding in his stables, at play with strapper and trainer Tommy Woodcock, and competing for the 1930 Melbourne Cup and the Randwick Plate. It also contains interviews with co-owner and trainer Harry Telford and rider Jimmy Pike.
Curator's notes
Made only a year before Phar Lap's untimely death, The Mighty Conqueror boasts some of the last moving images of Phar Lap in Australia both on and off the track. Australians at the time were in the midst of the Great Depression and Phar Lap provided a potent symbol of national pride. A light-hearted voice-over commentary offers an intimate portrait of the horse, combined with the views of Phar Lap's trainer, owner and jockey. An extended sequence at the beginning highlights the horse's physical beauty and strength and is supplemented with footage of Phar Lap on the racetrack, including a newsreel of his win in the 1930 Melbourne Cup. The scenes of Phar Lap boarding a ship to America are the last glimpses of the horse alive on Australian soil.
The film was directed by Paulette McDonagh, the youngest of the McDonagh sisters. The McDonaghs were significant figures in the late silent and early sound era of Australian filmmaking, not just for being women in a male-dominated industry but as filmmakers interested in the possibilities that sound brought to the screen. The sisters made four feature films, Those Who Love (1926), The Far Paradise (1928), The Cheaters (1930, which was released with some synchronised sound-on-disc sequences) and Two Minutes Silence (1933). The sisters explored early sound technology, while making documentary featurettes in the early 1930s with Neville Macken of Standardtone Sound Recording Studios, including Australia in the Swim (1932), Stranger in his Own Country (1932), How I Play Cricket (1932) and The Mighty Conqueror.
Their only surviving works are The Mighty Conqueror, The Trail of the Roo (1932), The Cheaters (1930) and the incomplete The Far Paradise (1928).