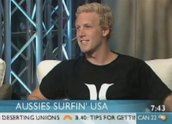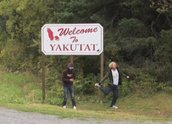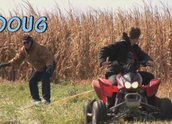 Surfing 50 States (2008)
Synopsis
In August 2006 filmmakers and surfers Jonno Durrant and Stefan Hunt embarked on a mission to surf in all 50 states in the USA. Adopting the motto 'as long you are standing on a surfboard with some kind of momentum, you are surfing', Jonno and Stefan ride modified surfboards in landlocked states to achieve their goal.
Curator's notes
Surfing and beach going are deeply embedded in Australian culture (see The Beach, 2000). The vast majority of Australians live on the coast and 'hanging out at the beach' throughout summer is a treasured national pastime. Beach culture has a long history on Australian screens (see Lifesavers: Cryst-O-Mint Flavour, 1925). Dozens of newsreels including Ken G Hall's Thrill of the Surf (1949) and a long line of feature-length productions such as Crystal Voyager (1973) have enshrined the coast as the place Australians love most.
Jonno Durrant and Stefan Hunt are typical Aussie beach boys who hit upon the novel idea of crossing the Pacific and surfing all 50 states in the USA. Operating on a miniscule budget the duo also made it their mission to not pay for any accommodation during the lengthy journey. Constructed as a travel documentary with surfing, rather than a straight-ahead surfing doco (see clip one), Surfing 50 States has the feel of a very well-made home movie. It succeeds with its target audience precisely because of its do-it-yourself packaging which includes cheerfully lo-tech graphics and conversational style voice-over narration by the filmmakers.
Managing to cram in 50 destinations into just over an hour, Surfing 50 States unearths many fascinating characters whose participation adds colour and context to Jonno and Stefan's offbeat quest. From the boys' encounter with the Alaskan surfing community and the taste of bear stew (see clip two) to convincing Nebraskan corn farmers to 'surf' their fields (see clip three) the documentary remains lively and lighthearted. An amusing running gag is the breakdown-prone ice-cream van given to the boys by an American surfing goods sponsor. As bills mount up to more than $3000 and their schedule is thrown into chaos, Jonno and Stefan never lose their laidback Aussie sense of humour. It doubtless helped them achieve their goal of avoiding accommodation costs.
While the running time necessitates only brief meetings with locals, Surfing 50 States consistently delivers engaging cultural exchange in between the sights of 'surfing' in such unlikely places as New York City, an Arkansas rice field, the main drag in Memphis, Tennessee, and the steps of the Museum of Modern Art in Philadelphia, where Rocky Balboa famously trained in Rocky (1976).
Surfing 50 States was released in Australian cinemas on 15 October 2008.