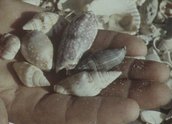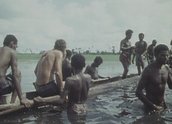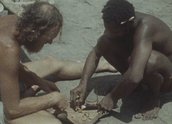 North to Niugini (1979)
Synopsis
Malcolm Douglas and Brett Nixon navigate the east coast of Australia in a five-metre boat. They depart from Sydney then replenish their supplies and enjoy some good fishing on a remote beach in far north Queensland. They continue north to Thursday Island in the Torres Strait before stopping at Yam Island to explore the beautiful coral reef. After heading into New Guinea waters a large group of men in traditional watercraft meet and accompany them to land. In New Guinea, Douglas and Nixon explore the Fly and Strickland Rivers and stay with the Bagwa peoples. Their journey ends in Port Moresby, where they board a Qantas jet back to Sydney.
Curator's notes
This film documents the adventures of Malcolm Douglas and his travel companion Brett Nixon as they prove their small motorboat's capacity to reach New Guinea and their ability to adapt to the on-board conditions and to the cultural norms of the Bagwa peoples in New Guinea. Douglas follows a similar path travelled by the earlier adventure filmmaker Frank Hurley in Pearls and Savages (1921) and records similar cultural activities, landscapes and Indigenous peoples. The stark difference between the two adventure films resides in the representation of the peoples and the level of respect and sensitivity shown.
This contrast not only reflects the differences between these two filmmakers but also the eras they inhabited. Hurley visited the Fly River in 1921 during the time Australia administrated New Guinea. By the time Douglas arrived in the late 1970s New Guinea had gained independence. The country maintained the traditional land laws, local governance structures and cultural practices and, as Douglas records, the peoples also continued to adapt technologies and knowledge from other cultures into their own.
Frank Hurley lived in the age of British imperialism and presented himself as not only superior to the Indigenous peoples, but with an almost godlike status. Concerned with the aesthetic quality of his film, Hurley carefully constructed the imagery in front of his camera rather than depicting actuality as it occured. Douglas and Nixon, on the other hand, embrace the Indigenous peoples and their traditions and record events as they unfold. As Douglas said in an interview with The Sun Herald in 2009, 'What you see is what you get'. This statement reflects his films as much as the man himself.
Douglas and Nixon joined the Bagwa people in their daily activities collecting, cooking and eating beetles, grubs and other traditional foods. In doing so, they provided an example of how to experience rather than judge the cultures of other people. Douglas didn't construct an adventure story and seek accompanying images; he simply went on an adventure and took his camera with him.
Malcolm Douglas (1941–2010) produced over 50 travel and adventure films for Australian television during the last 40 years. When Douglas immersed himself within an Indigenous cultural landscape, he took lounge rooms full of Australian viewers with him.