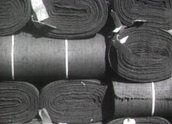 Australia Prepared (c.1916)
Synopsis
Australia Prepared highlights the country's contributions to the First World War, beginning with the recruiting of soldiers after war is declared. Segments include: footage of troops training at Liverpool Camp, NSW; the manufacture of rifles and ammunition; shipbuilding at Cockatoo Docks; and the production of khaki soldiers' uniforms.
Curator's notes
Australia Prepared was designed to encourage recruitment during the First World War by fostering pride in the country's contributions to the war effort.
A report in the Melbourne newspaper The Argus calls it 'a film designed to indicate what the Commonwealth has done towards the furnishing of men and munitions to aid the Empire in the war' (18 July 1916). It follows a British propaganda film produced the previous year, Britain Prepared (1915), that screened internationally.
A film like Australia Prepared served several purposes, including encouraging men to enlist as soldiers and maintaining morale in the wider community. It also demonstrated to England and other Allied countries the extent of Australia's wartime contributions – not just in recruiting and training men, but producing ships, weapons, artillery and even khaki uniforms.
Sequences were filmed in NSW, Victoria and Western Australia. New South Wales locations include: Liverpool Training Camp; munitions factory at Lithgow; Jervis Bay Naval College in NSW; the Light Horse camp at Menangle, NSW; and Cockatoo Docks, Sydney. The Williamstown Dockyard in Victoria also appears.
Australia Prepared was produced by Australasian Films and premiered in July 1916. The tinted nitrate print of The Manufacture of Khaki sequence was deposited with the National Film and Sound Archive by Mr Peter Ricketts. The Australian War Memorial holds the film in its collection.