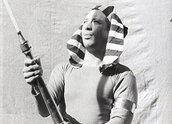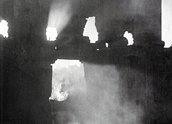 Fire Guardians (1932)
Synopsis
This is a dramatised documentary which highlights the history and heroics of firefighters and culminates in the 're-burning' of the Cumberland Paper Mills which were destroyed by fire in 1928. It includes an opening sequence of fire and smoke to the music of Wagner's Ride of the Valkyries; a dramatised sequence of firefighting through the ages, acted out by members of the NSW Fire Brigade; a brigade band sequence; firefighters performing callisthenics; and the final fire fight. The film is bookended with family scenes between firefighter Tomlinson (played by Inspector BL Barber) and his family (played by Agnes Kent and Jack Clark). Filmmaker Frank Hurley makes a cameo appearance as a radio announcer and narrates the film with Chief Officer Swift (played by 3rd Officer C Richardson).
Curator's notes
This is one of Hurley's more eccentric films, alongside the musical travelogue Treasures of Katoomba (1936), made four years later. The attention-catching opening, with its billowing smoke and Wagnerian score, is just the first in a series of dramatically staged sequences which today appear more as curiosities than anything else. Hurley used members of the NSW Fire Brigade to act in the film and dressed them in costumes ranging from Egyptian-style headpieces to tight-fitting gym clothes, equipping them with brass musical instruments and various items of firefighting equipment.
The film premiered in Wagga Wagga to coincide with a fire brigade jamboree, so would have been met with an enthusiastic response. The final firefighting scene (see clip two) was a re-staging of an actual fire which took place four years earlier, gutting the Cumberland Paper Mills. To achieve authenticity, Hurley laced the dilapidated building with highly flammable nitrate film stock and doused it in petrol. Although under fire brigade supervision, the sequence was no doubt dangerous to film – the element of risk involved probably attracted the adventurous Hurley like a moth to a flame.