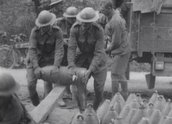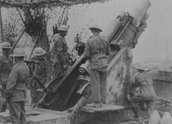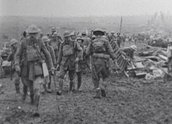 Fighting in Flanders (1917)
I loved the movies, found them very emotive! I note the height of most of our blokes. I understand that in WW1, they were selected on that basis? It was like looking at ghosts, and I felt the same when I visited Villers Brettoneux, a couple of years ago. You could almost see them in the Commonwealth cemetery! I believe most people know of our defeat at Gallipoli. Not so many know of the contribution made on the western front. Australians won that war.

#1 from acotrel – 9 years, 2 months ago.

I just came across the archival footage on this page. It has had quite a big emotional impact on me, quite to my surprise.

I have been doing sporadic research into the life of my grandfather, Charles Gordon Cone, for some years.

On September 17, 1917 he was awarded the Military Medal for bravery under fire when he took the first supply wagon up the Menin Rd and came under heavy shell fire at Hell Corner.

The thought that he might be in this film clip has been quite overwhelming. Thanks for making it available.

Posted on behalf of Rob Young

#2 from Editor – 9 years, 2 months ago.

I too have been doing some research (in preparation for a visit to northern France early next year) into the war history of my great uncle, John Archibald Cameron, who died of bronc pnemonia on 26th Nov 1918 in the 3rd AGH in Abbeville, France. According to his service history he was admitted to hospital on Nov 11th, the day the German army surrendered.

John Cameron serviced with the 8th Light Trench Mortar Battery attached to the 32nd Battalion, 5th Division. I believe, through my research, that he saw action at Fromelles, Polygon Wood and Saint Quentin Canal. But I'm not sure, yet, about the accuracy of my research

To find footage such as this that may, or may not, feature a loved one, allows us the luxury of imagining what their existance must have been like.

In the 2 years that my great uncle was in France, he was injured in the leg from a bomb explosion less than 2 weeks after his arrival, had trench feet twice, scabies once, and was hospitalised for influenza twice before the fateful last trip in Nov 1918. Jack died aged 21.

Thank you for allowing me to visualise such a personal episode in our family's history as well as our nation's.

#3 from Roberts – 9 years, 2 months ago.
To comment on this title, you need to be
logged in
.

RSS – Subscribe to an RSS feed of comments on this title. (learn about RSS)