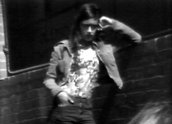 Collingwood Community School (1975)
Synopsis
This 'process video' made by Tom Zubrycki aspires to provide an insight into the day-to-day running of the Collingwood Community School and some of the issues involved for both students and staff.
Curator's notes
Filmed during a two-hour visit to the Collingwood Community School in September 1974, this black-and-white video contains an argument for increased funding and resources so the students may fully benefit from the environment the community school provides. The first half of the video covers an interview with one of the staff on the footpath outside the entrance to the school. The camera then moves into the classroom where an observational style is used to capture the slightly rowdy and unconventional atmosphere (kids smoking and swearing during class). In other parts of the school, students are approached for their views. The final segment of the video moves back outside to continue the original interview where the staff member talks about the positive impact the community school has had. Structuring the video around a single dominant interview provides a simple thread to build around.
The Collingwood Community School emerged in the early 1970s when La Trobe University and the Collingwood High School joined forces to provide an alternative educational environment for working-class and migrant students. While debates around the value of community schools such as this have since questioned the appropriateness of a 'liberal curriculum for working class students', Zubrycki shows the students as just ordinary (if somewhat disadvantaged) kids who may not have completed school (or stuck at it for as long) if the community school did not exist.
Zubrycki's sense of commitment to his subjects and their stories is a common thread that was born out of these early days working on Collingwood Community School and other videos in the 1970s. Eventually Zubrycki abandoned these advocacy videos for longer-format works in order to reach wider audiences. He has gone on to become one of Australia's most accomplished and well-established documentary filmmakers. His feature-length documentaries include Molly & Mobarak (2003), The Diplomat (2000) and Friends and Enemies (1987).