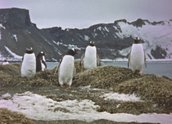 Antarctic Vigil (1952)
Synopsis
Beyond the Roaring Forties, an Australian ship lumbers south through heavy seas towards Antarctica. The ship passes beautiful icebergs sculpted by the sea into graceful arches. At the forbidding Balleny Islands, claimed by New Zealand, the terrain is impressive and inaccessible. Returning to Macquarie Island, king penguin chicks still wear their 'downy overcoats' of juvenile fur. One of the amphibious army 'ducks' used to resupply the Australian bases becomes swamped during a landing in heavy surf. At Kerguelen Island, the Australians visit the abandoned French whaling station, en route to Heard Island, where Australia has its second sub-Antarctic base. A small number of men maintain a station monitoring weather conditions and carrying out scientific research beneath the imposing dormant volcano known as Big Ben. The base is surrounded by abundant wildlife – seabirds nesting on cliffs, gentoo penguins snatching grass from each other's carefully constructed roosts and king penguins with their chicks. The weather changes very quickly. Dark clouds turn into a full-scale blizzard, covering the camp in fresh snow. The men break out skis and a sledge to practise their skills for when Australia will establish a base on the Antarctic continent itself.
Curator's notes
Antarctic Vigil appears to be the first colour film from Australian Antarctica and the sub-Antarctic islands, although dating the footage is somewhat complicated. The credits list photography by Phillip Law, Alan Campbell-Drury, and WS Nutt. The copyright mark says 1952, but that doesn't tell us when the images were made. It is very likely that the film contains footage from as early as 1947, some of which had been used previously in black-and-white in another film (see more about this in the clip notes).
Whoever shot Antarctic Vigil, the images are remarkably beautiful, especially the scenes on Heard Island and Iles de Kerguelen, its French neighbour. They give the film almost a travelogue feeling, although it may also have been used for training within the Antarctic Division.
The Australian National Antarctic Research Expedition (ANARE) was renamed the Antarctic Division of the Department of External Affairs in May 1948, after the first two voyages took place. They established bases at Heard and Macquarie Island, halfway to Antarctica, but not on the continent itself. Phillip Law took over as acting Officer-in-Charge of the Antarctic Division in January 1949. Kathleen Ralston writes in the first of her two biographies of Phillip Law (called A Man for Antarctica – The Early Life of Phillip Law, 1993, Hyland House, ISBN 1 875657 13 4) that he was determined to gain a foothold on the Antarctic continent itself, after taking part in the establishment of the sub-Antarctic bases. 'This goal became a personal obsession and drove many of his actions', she writes.
He believed that the Australian Government would be reluctant to pay for three bases. If he wanted a base on the Antarctic continent, he expected to have to close one of the sub-Antarctic bases, but both were providing extremely valuable meteorological information. He realised that Heard Island, which was halfway to South Africa, about 4000 kilometres south-west from Australia, was most likely to have to close. The French Government had not yet established its own base on Iles de Kerguelen. If they could be encouraged to do so, they might also provide the weather information that Australia needed. He could then close Heard Island and concentrate on establishing a new base in Antarctica. This is what happened.
In mid-1949, the French Government established a base on Iles de Kerguelen. Law visited the island for the first time in February 1949, on his first voyage as leader of a resupply voyage, destined for Heard Island. This was the second and final voyage of the LST 3501, which had recently been renamed HMAS Labuan. After unloading supplies at Heard and picking up the 15 men who had wintered there, leaving behind a new crew for the next year, the Labuan sailed to Kerguelen on its way home. The new French base gave them a warm and very alcoholic welcome – the first of many parties that became legendary within the Antarctic Division. This visit may be the source of these images of Kerguelen and its abandoned whaling station. Phillip Law wrote in his diary that it was a fascinating place. 'Scenery is on a grand scale with snow-clad, glaciered mountains, great harbours, magnificent fjords and an abundance of grassy vegetation and wildlife; seals, penguins and flying birds.'
He noted that there was a lot of roofing iron and building timber lying about at the old whaling station, which might be useful for Heard Island. During the voyage home, he had a major disagreement with Jack Atkinson, a journalist who was supposed to cover the journey for Australian newspapers. Law was not impressed either with David Eastman, the photographer, who was making his second voyage to Heard Island. Eastman was 'a lazy bastard', according to Law's diary. Kathleen Ralston says Law made a resolution: 'By Jove, I'm never going to permit any journalist or official photographer again on these shows.' He was unable to stick to this, and he would clash again later with journalists and photographers (see Antarctic Voyage, 1956).
Law knew that to survive, the Antarctic Division needed publicity. In the era before television, short films and press coverage were essential and Law was energetic about ensuring both. One of the main purposes of Antarctic Vigil was to acquaint Australian people with the terrain and the idea that Australian scientists were doing useful work in these far-flung places, for the good of Australia. It is in some ways a bridging film, between the first flurry of activity in setting up bases, and the next stage, when Australia would put its first base on Antarctic rock. The main reason for its existence may be that it uses the colour film that Law had on hand after the first three years of operations.