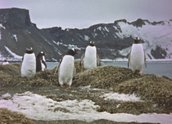 Antarctic Vigil (1952)
You will find here https://www.cinematheque-bretagne.bzh/Exploration-970-26692-0-0.html images filmed by Sir Phillip Law when visiting Kerguelen islands in February 1949. Some of them can be seen in the film "Antarctic Vigil".

#1 from maimetti – 2 years, 9 months ago.
To comment on this title, you need to be
logged in
.

RSS – Subscribe to an RSS feed of comments on this title. (learn about RSS)