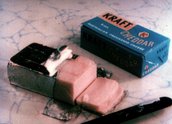 Kraft Cheddar Cheese Cinema Advertisement: Unexpected Guests (c.1940)
Synopsis
In this cinema advertisement for Kraft Cheddar Cheese, a woman prepares a quick and tasty snack using Kraft cheese for some unexpected guests.
Curator's notes
The foods we eat and how we prepare them have changed over the years, but grilled cheese on toast or crackers remains a familiar snack to many of us. It is interesting to see how this snack was marketed by Kraft as a quick and easy-to-prepare snack, and importantly an economical one. Unexpected Guests would have screened in cinemas to audiences who were tightening the purse strings during the war years and a processed cheese, conveniently packaged and affordable, would have had quite an appeal. Only three years later, John Curtin introduced food rationing on some food products to assist in Australia's war effort.
Kraft made a series of advertisements for their Cheddar Cheese in the 1940s including Food for Thought and Your Daily Diet.