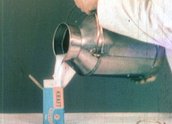 Kraft Cheddar Cheese Cinema Advertisement: Food for Thought (c.1941)
Synopsis
This black-and-white and colour Kraft Cheddar Cheese advertisement looks at food preparation, food value and how Kraft cheese can make the difference to nutrition.
Curator's notes
This advertisement uses two distinct styles and approaches to market its Kraft Cheddar Cheese. It opens in the style of a community service announcement where the narrator announces that 'the object of this film is to help the Federal Government and to advise you as to not only how to get the best foods, but how to get the best food value'. This noble statement then segues into the colour section of the advertisement which takes the form of a cooking lesson or instructional film. 'Correct' and 'completely wrong' methods of cooking are demonstrated by a woman (Muriel Steinbeck) in a staged kitchen while the narrator continues in his authoritative tone. In the final moments of the advertisement, the product makes its way into this theme as 'nourishing cheese' used to add to main meals which are easy to prepare, good for you and, of course, extremely economical. Building on the food shortage warning that opens Food for Thought, Kraft pasteurised and processed cheese is positioned as part of the solution to this crisis.
Processed cheese had been on the market in Australia since the mid 1920s. It is less perishable than fresh cheese, and therefore can be stored longer. The benefits of this to households during the 1930s and 1940s is capitalised on by Kraft in this advertisement, as well as in Your Daily Diet and Unexpected Guests. For other examples of cinema advertisements for food products in the 1940s, see Kellogg's Cornflakes: Tell Me a Story and Nestlé's MILO cinema advertisements. Like these Kraft cheese ads, the Nestlé and Kellogg's advertisements emphasise the nutritional elements and their low cost as a selling point for their respective products.
The actress Muriel Steinbeck appeared in a number of films in the 1940s and 1950s including the feature films Smithy and A Son is Born.