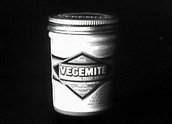 Happy Little Vegemites (1959)
It was great to hear this jingle again but I would love to hear the full version so I could hear my 6year old self sing 'it puts a rose in every cheek' at the end. I can vaguely remember singing into the microphone that day with my Mum and young aunt and uncle (they would have been 6 and 9 respectively I think). Making ads at that time demanded a lot of patience from a child; going over and over till we all got it right. I hope we all behaved like good little Vegemites (but I somehow doubt it :))

I am also grateful to the Archive for finding the other swing version - that's my Dad Frank Marcy on drums at the back in the studio. He was a great drummer and I love seeing him do his stuff again. That's a great image to keep in my memory.

#1 from bellalinda52 – 13 years ago.

Great stuff... and just to follow on from bellalinda's comments, my dad is/was Bob Gibson, and he was great mates with your mum Betty and father, Frank Marcy. In fact, your father was my godfather, though i was too young to ever really know him.

Amazing to see this stuff after never having seen it and my dad always said Frank was the best drummer he'd ever seen.

- Adam Gibson

#2 from AG – 13 years ago.

Hey Adam I remember your Dad, Bob, well. He was an amazing talent in Australian music and I loved his skill on both the violin and the clarinet. He was a really lovely man too. His clever arrangement of the Vegemite song brings back such strong memories of the Australia I grew up in; marching was a big deal at primary school when I was little, so it was a rousing sort of anthem for children to sing. He always did great arrangements.

#3 from bellalinda52 – 13 years ago.

Does anyone know who the other musicians are? Thanks to Kraft we have discovered the names of the Vege-Mites singing group, the four girls singing into a microphone in the cinema ad (swing version). From left to right in the footage their names are Anne Edwards, Denise Simpson, Veronica (family name unknown) and Marilyn Taylor. It would be great to hear from any of this group and to find out Veronica's last name.

#4 from Maryanne – 13 years ago.

See the Review page where Marilyn Taylor of the Taylor Sisters and one of the Vege-Mites singing group talks about the cinema ad and reveals Veronica's last name.

#5 from Maryanne – 12 years, 10 months ago.

Hello cousin Linda! (BellaLinda)

Yes, I'm very proud to say that my father is also singing in the clip. His name is Stephen Parker - young Brother to Betty Parker and Uncle to Linda Harding (Betty's Daughter) also known as BellaLinda on here. Dad would have been 10, at the time of recording.

And it's also warming to know that the incredible percussion in the background, is performed by my uncle Frank Marcy. Wonderful.

#6 from KellieAnne – 10 years, 6 months ago.
To comment on this title, you need to be
logged in
.

RSS – Subscribe to an RSS feed of comments on this title. (learn about RSS)