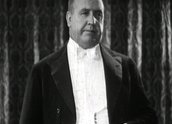 FW Thring Introduces the Stars (1931)
Synopsis
This cinema announcement made by filmmaker Frank W Thring Snr promotes Australian talking pictures, the Efftee Studio production Diggers (1931) and some of the upcoming stars of his Efftee feature films. The Efftee actors introduced include Ray Fisher (who played Doreen in Thring's 1932 remake of The Sentimental Bloke); Diggers (1931) co-stars Pat Hanna, George Moon and Cecil Scott; and Donalda Warne (who appeared in His Royal Highness, 1932, and A Co-Respondent's Course, 1931).
Curator's notes
The development of synchronised sound technology in the late 1920s sparked enthusiastic support for talking pictures from Australian filmmaker and cinema entrepreneur Frank Thring. In 1930, Thring sold his share in Hoyts (after ensuring that Hoyts would screen his pictures) to set up his own production company, Efftee Film Productions ('Efftee' from his initials). He also established Efftee Studios, the first talking film studio in the country, to produce locally made films. Thring believed that talking pictures had the potential to build a competitive local production environment where Australian films could stand up against American and British imports. He was a strong advocate for a quota system to ensure Australian films were supported locally.
In this short introductory speech, Thring proudly announces to the audience that the film program they are about to see is completely Australian made ('made by Australian workmen and experts … and written by our own writers') and of a scale and quality comparable to overseas productions. His enthusiasm is similar to that of Frank Forde, the then Minister for Trade and Customs, whose optimistic speech screened at the same time (see Efftee Studio Opening in Melbourne: Speech by Frank Forde, 1931).
This speech was recorded in July 1931 for the premiere of the Efftee talking picture program at Melbourne's Hoyts Plaza Theatre on 6 November. It screened a week later in Sydney. The cinema's program for the evening also included a speech given by the Minister for Trade and Customs, Frank Forde, the travelogue Melbourne Today (1931) and the feature film Diggers (1931).