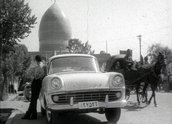 General Motors Holden – Export Holden Version 2 (c.1962)
Synopsis
This television advertisement for General Motors Holden showcases the economic and cultural value of Holden exports to markets in Asia, Africa and the Middle East, including Malaya, Thailand and Iran. It includes footage of Holdens in some of these countries as well as the manufacture of cars for export at a GMH Holden assembly plant. The ad has male voice-over narration.
Curator's notes
General Motors Holden began exporting vehicles in 1954, when it delivered its first Holdens to New Zealand. By 1962, when this advertisement was made, GMH was shipping 36,000 cars to 46 overseas territories. This expansion into overseas markets represented a coming-of-age for the Holden brand. In the advertisement, 'the car from Australia' is set against an exotic backdrop of 'mosques and palaces and bazaars'. Holden overseas symbolises the presence of Australian industry in foreign lands.
This ad is related to General Motors Holden – Export Holden (c1962), which was likely made earlier. This 'version 2' ad includes updated information about Holden expanding into another territory and adds shots of the cars in Iran and in use by the police force in Malaysia. The glimpses of Asia-Pacific and the Middle East in both these advertisements is of historical interest because these regions were infrequently depicted in Australian productions of the time, outside of documentaries and home movies.