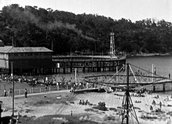 Chas E Blanks: Families at Seaside, Sydney Harbour (c.1930)
Synopsis
This silent black-and-white cinema advertisement for Sydney Ferries shows children swimming and families picnicking at a fun fair at Nielsen Park and Clifton Gardens.
Curator's notes
This advertisement is filmed in a home movie style, and features the producer's own family.
This was apparently Chas E Blanks' first advertising film.